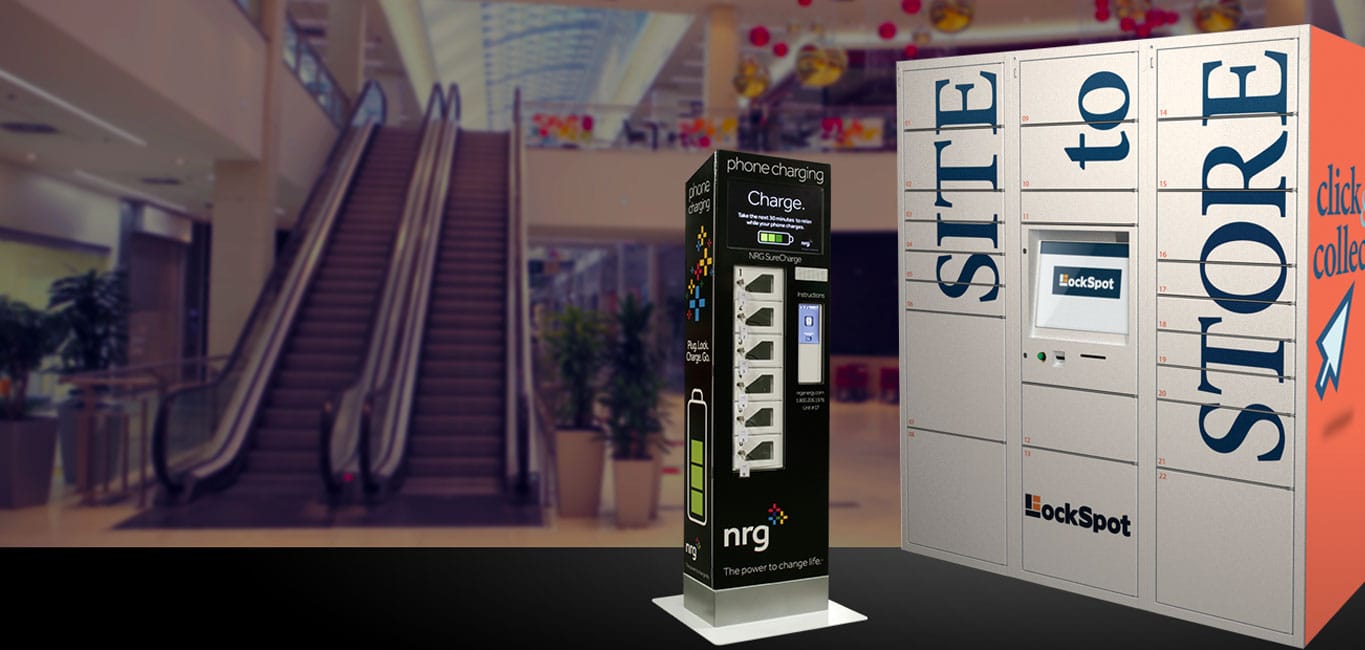 Custom Parcel Locker Systems
Site-to-Store, Last-Mile Delivery, Vending & Phone Charging Solutions
IT Distribution Locker Solutions
Smart locker systems are becoming widely used by Information Technology and Supply Chain personnel as automated distribution solutions for equipment and supplies. Automating delivery of equipment and consumables optimizes the productivity level of employees and the departments that support them. KIOSK's modular asset management locker platform provides an immediate, centralized, and secure source for smart repair intake and distribution of expensive equipment replacements and essential new supplies that staff need to stay productive.
Modular locker software enables Solution to:
Securely load / unload items
Store Order Codes at the locker for employee pick-up
Notify Administrators of locker activity and inventory at all hours
KIOSK developers can customize user flows and integrate API / logic layer requirements, advancing the solution to a client-specific open system.
Standard automated self-storage kiosk locker configurations are flexible in design, with variable sized lockers (small, medium, large). Further, as the solution demand grows, it's easy to add-on columns in the field. Dimensions of the three-column system shown: 75.3"H x 60"W x 16"D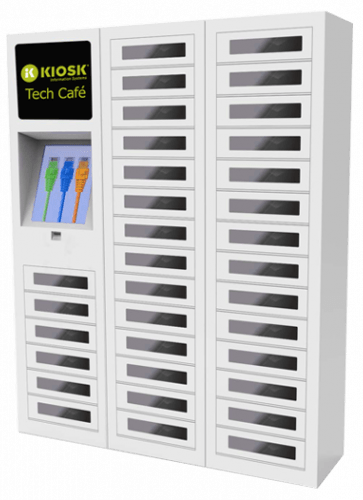 CONTACT US FOR MORE DETAILS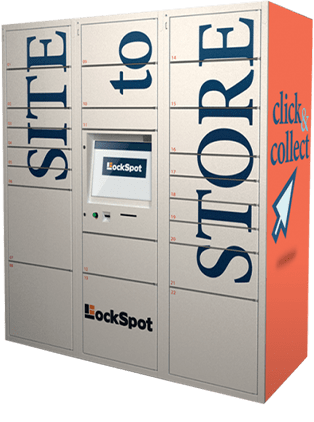 Site-to-Store Parcel Lockers
So, what is a parcel locker?
The KIOSK LockSpot electronic parcel locker platform provides a simple and cost-effective path to implement the latest in site-to-store delivery options. LockSpot in-store delivery lockers enable administrators to securely and quickly find and load items; then message (email / SMS) customers for convenient, self-service pick up. Customers can skip the line and independently scan their bar code or enter on-screen delivery code upon request to access the locker and collect their delivered purchases.
And, what benefits does a parcel locker platform provide?
For the consumer, the parcel locker resolves legitimate concerns around missed or stolen packages. It provides on-demand delivery convenience and secures their purchase until it's convenient to pick up.
For the Retailer, benefits are three-fold:
Introducing self-service consumer delivery options free of ongoing labor costs
Reducing last-mile delivery expense
Increasing predictable foot traffic back into the store for secondary purchase opportunities
Representative platform configuration options may include:
PC
19″ LCD / Touchscreen
Bar code scanner
Receipt printer
Door controller boards
The LockSpot full solution package provide hardware, software, installation, best-in-class field service, and comprehensive proactive remote monitoring support. The modular design and configurable locker sizes can be easily expanded as your fulfillment / delivery demand grows. Please contact a KIOSK professional for a locker solution consultation.
Custom Locker System
KIOSK has extensive experience in customized locker system design (delivery and phone-charging lockers, rentals, and hybrid solutions). We've assembled a full library of common application code and controller assets that provide the foundation elements of a custom solution. KIOSK offers a high-quality, menu-driven, modular approach to locker feature inclusion that substantially reduces client development costs and timelines.
Solution sophistication needs vary greatly by application – key capabilities in our self-service parcel or asset storage portfolio include:
Customized user interface (kiosk, mobile application, or both)
Hardware controls for door access and components
PIN Pad access door controls (one pad per door, or multi-door controls)
Payment transaction components
User authentication scanning components (card, barcode, QR code, biometric)
RFID card-based door access (membership)
Full back-end integration services to POS / reporting systems
Electronic lockers adapted for vending solutions may include RFID sensors for intelligent data tracking of locker contents and inventory climate control.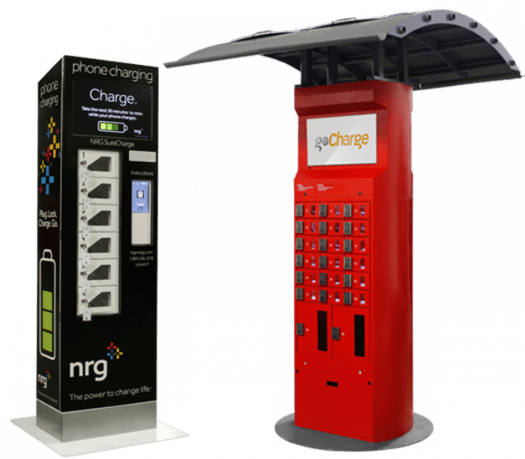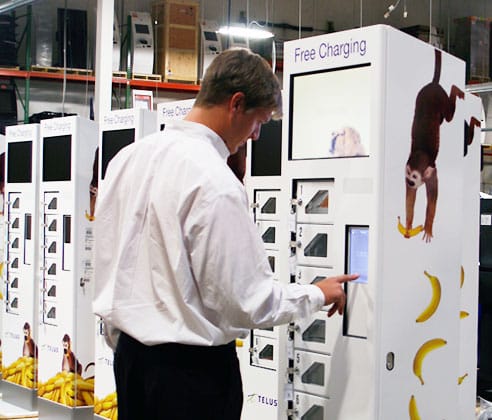 Phone Charging Lockers
KIOSK is the OEM solution provider for many custom phone charging solutions actively deployed in retail stores, airports, restaurants, and event venues. In addition to providing a highly valued consumer service, businesses recognize the revenue generating potential of a captive consumer audience during the time required for the charging process. These specialized locker solutions are outfitted with a full complement of features enabling consumers to securely charge their phone while they go about their business. Key features include:
PC, LCD, Touchscreen
Secure, locked charging station doors
Full complement of current charging cable sets
Locker presence sensor technology to detect phone weight (indicates phone presence / locker availability)
Optional cameras and microphones for optimal on-site service resolution
UPS backup power supply
Ad content display capability
Enclosure wheels options for maximum portability
KIOSK can also provide outdoor rated custom options.
RFID Lockers
RFID Release
KIOSK's RFID locker systems can be integrated with optional RFID Card access technology, providing returning customers with an additional secure and convenient retrieval alternative. Initial access is granted based on personal credit card payment transaction. Paid members are provided a repeat transaction card to unlock the door when positioned over the locker antennae. Members simply push the locker's "wake up" button to activate the RFID reader; then scan their ID card over the reader. Upon recognizing the RFID signal, the door lock mechanism is released.
Videos Demonstrating RFID Release
SnowGate RFID locker door release video
B-cycle RFID rental release (same functionality; different application) video
RFID Locker Inventory
Hybrid lockers containing consumer product for vending can be integrated with RFID Inventory Tracking. Units are equipped with an RFID antennae / product tag to track inventory type, count, and sales; facilitating the key elements of a convenient and intelligent self-service vending platform.
Lockers Gallery
Click to Enlarge or Learn More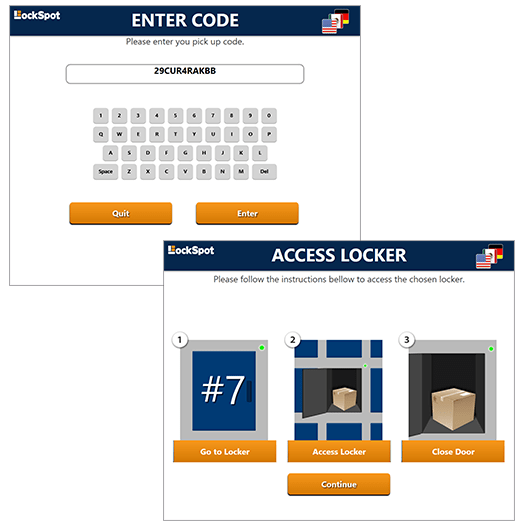 Locker Software
Modular Application Design
KIOSK's Application Development Team provides licensable code modules to support a complete base of locker delivery, retrieval and transaction management requirements. It facilitates a simple user flow menu with fast processing, ensuring an intuitive self-service customer experience.
Standard Locker System Application Functionality
KIOSK's Standard Locker application manages hardware controls for door access and components (control boards, scanner, LCD, and printer) in all delivery locker configurations. The user interface (UI) flow has been streamlined to ensure quick processing and simplify consumer use.
The library of standardized locker application modules supports common consumer transactions, including:
Package delivery via secure Administrator log-in
Simple pick-up process for devices and products
Intelligent inventory capabilities to assign custom codes to specific lockers
Easily configurable logos, images, text and colors for Speed to Market implementations
Backend integration can be custom quoted – KIOSK Software Professionals are readily available for consultation today