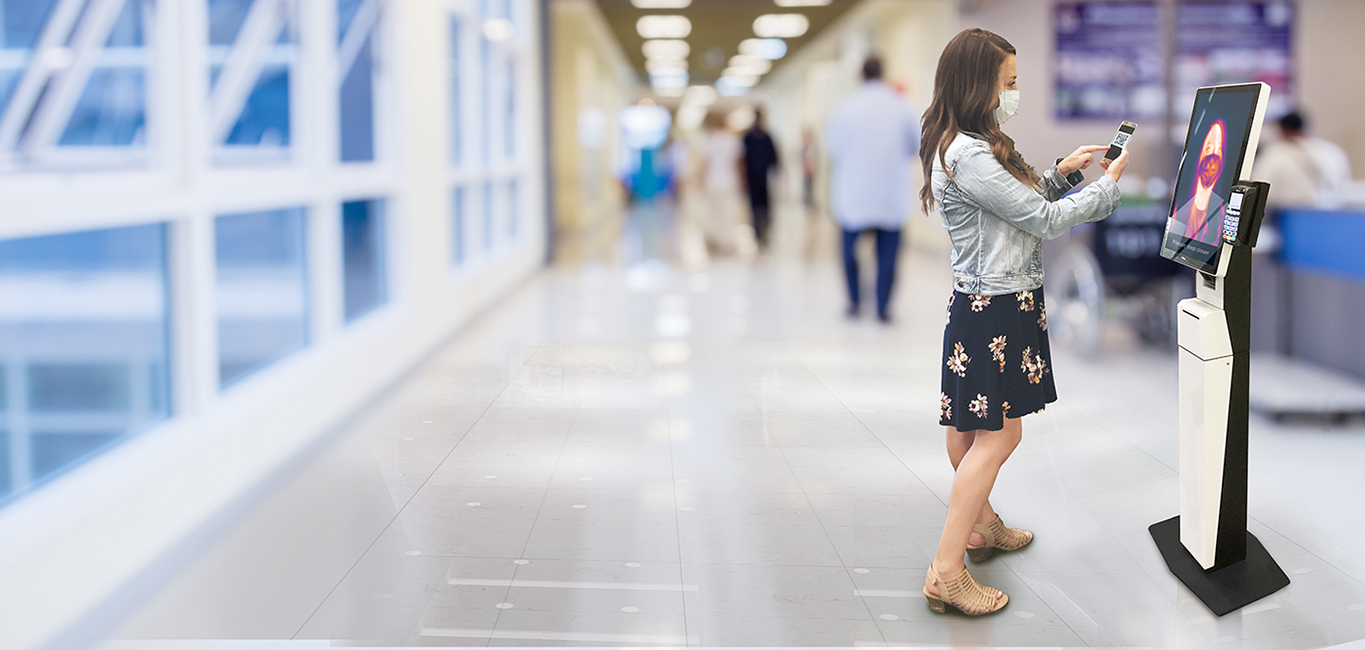 Temperature Screening Kiosk
Non-Touch entry access system for efficient check-in and elevated temperature screening.
Temperature Check-In Kiosk Overview
In today's climate, businesses require self-service technology to measure customers and visitors for "at risk" temperatures at the point of admittance. KIOSK's off-the-shelf product utilizes a proximity reader to detect a person's presence and activates the user interface prompt without touching the screen (contactless experience).
KIOSK's Temperature Sensing Solution with Facial Recognition allows visitors and employees to walk up to a kiosk and get scanned for an elevated temperature without attendant intervention, and without touching the screen. The person is then scanned by a contactless thermal camera to read and report the individual's temperature to an operator. The thermographic camera and related system software provide a temp scan with accuracy of ± .5°C. The system software provides the actual temperature data measured and the status of "not elevated " or "elevated" (elevated status threshold is 100.4°F, per CDC guidelines). The operator then has the appropriate information to either enact secondary screening measures or grant entry based on facility protocols and policies.*
Solution Features
Utilizing contactless self-service technology for "at-risk" temperature screening tasks eliminates person to person interaction, thereby reducing virus transmission potential between the operator and the person being screened. Further, automation reduces labor overhead associated with paid personnel managing this repetitive function.
The top-mounted Dermalog camera is integrated with the KIOSK solution. The camera is proven for use in facility screening (pre-COVID) and has been deployed widely for use in airports, border control and large-scale events.
Accuracy – Thermal IR (infrared) measurement, RGB indication and 3D sensors – multiple sensing technologies ensure accurate measurement
Facial Recognition – Measures pin-point specific region of the face for accurate measurement
Controlled Thermal Drift – Camera housing ensures the unit does not register hotter temperature measurements as the system itself heats up throughout a day's prolonged usage.
Contact Us For More Details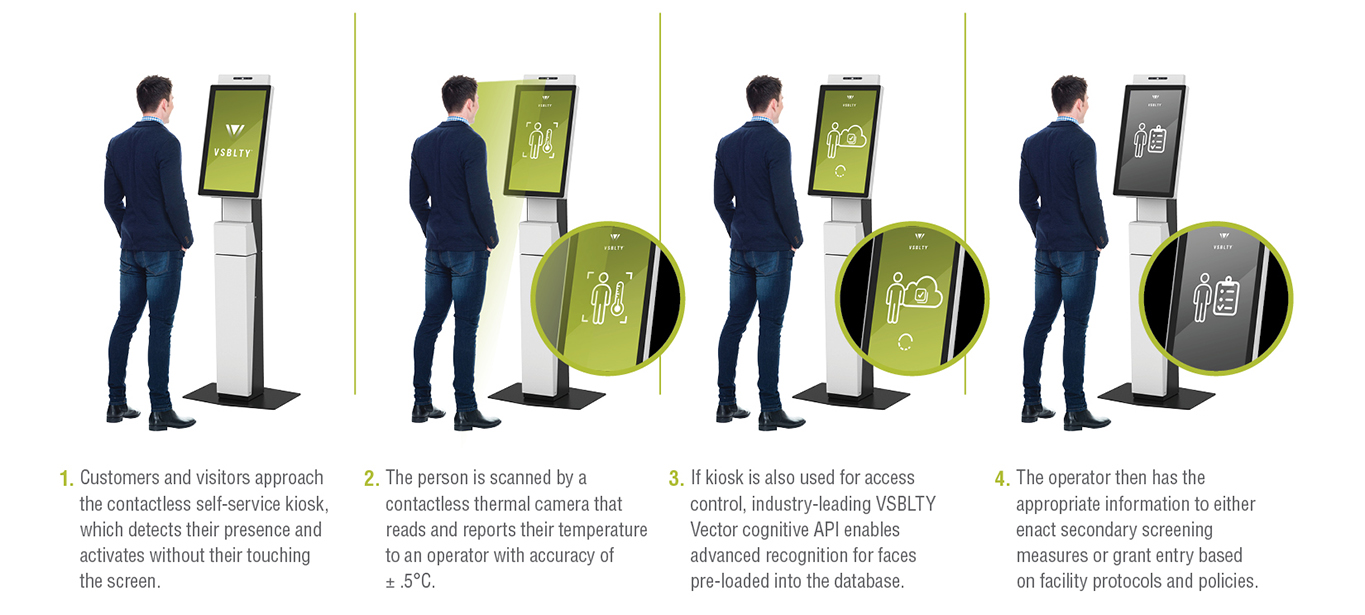 Temp Sensing Kiosk Functions
Easy, contactless user experience
Modular kiosk allows for ADA compliance
Durable Powder Coated Steel Enclosure
Posiflex KK3000 PC (I3 or I5 Processor)

Posiflex 21.5" PCAP Touch Monitor
Dermalog Fever Detection Camera FLC1
Base Plate – Pedestal or Countertop
Vesa Mount for Wall-Mounted Model
*The Access temperature measurement kiosk is a telethermographic system intended for adjunctive temperature data screening during the COVID-19 pandemic. It should not be solely or primarily relied upon to diagnose or exclude a diagnosis of COVID-19, or any other disease. Elevated body temperature in the context of use should be confirmed with secondary evaluation methods (e.g., an NCIT or clinical grade contact thermometer). Public health officials, through their experience with the device in the particular environment of use, should determine the significance of any fever or elevated temperature based on the skin telethermographic temperature measurement. The technology should be used to measure only one subject's temperature at a time.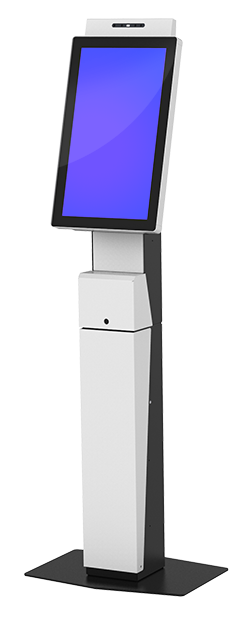 VSBLTY Software Overview
VSBLTY is a digital display software provider specializing in AI and facial recognition. The Temperature Sensing with Facial Recognition allows visitors and employees to walk up to the kiosk and get temperature scanned automatically without touching the screen. The top-mounted Dermalog camera scans employees and patrons. Users (employees/members) setup within VSBLTY's AI facial recognition software (Vector) will be matched, and temperature data can be stored for corporate reporting.
Software elements
Key VSBLTY Temperature Screening and Facial Recognition software bundle elements include:
Vision Captor™ is a Content Management System (CMS) element which enables deployed kiosks to be fully managed from the centralized management platform.
DataCaptor™ Artificial Intelligence (AI) audience analytics system that recognizes the image captured, leverages sensor technology with AI machine learning and computer vision to provide real-time analytics and audience measurement. DataCaptor™ will recognize and store body counts, temperature, and facial traits (gender, mood, age, etc.).
Vector™ Uses facial recognition to make data captured person-specific. Enroll facial images to mirror employee database to set-up real-time alerts when elevated temperature criteria are registered.
Please contact a KIOSK representative to learn how a temperature sensing solution could benefit your patron or customer experience and reduce overhead.