Retail consumers continue to "buy and try" with online shopping – a new norm that's here to stay. This purchasing behavior typically involves consumers buying online a selection of similar items with the intent of returning one or two – easy and convenient. However, there's a catch – big catch – for retail operators involving the cost, processes and logistics of managing these returns with an impact on the bottom line. In fact, some major retailers are allowing customers to keep their returns of low-cost or large items that are costly to ship as each return costs approximately 59% of the item's purchase price. KIOSK is partnering with Doddle and in alliance with GEODIS City Delivery to help solve this growing business pain for retail operators and enable a more cost and operationally efficient approach by utilizing self-service returns and delivery logistics.
To further explore this topic and how it works, I'd like to share this excerpt from "Out-of-the-Box Logistics for an Unprecedented Returns Season" in collaboration with Gina Anderson of GEODIS City Delivery: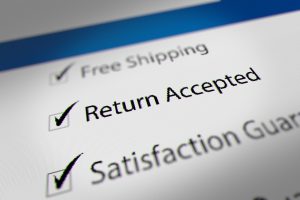 …Sellers have claimed that because of shipping and handling fees, it is often more expensive for a return to be processed by mail than it is for the customer to keep the unwanted product. More than 13% of purchases made this past holiday season were expected to be returned, costing a staggering $101 billion. Some major retailers may be able to absorb these costs, but for many businesses, after the events of 2020 and considering growth for 2021 onward, more loss is not an option.
Is there an alternative? Of course. Effective last-mile delivery includes an efficient and cost-effective returns process. GEODIS City Delivery provides innovative same-day delivery and convenient residential return pickups through the Zipline driver app. By connecting drivers with deliveries and pickups in their area via smartphone, Zipline allows clients to offer seamless, same-day service that efficiently gets packages in the hands of customers and brings merchandise returns back into the supply chain.
For those who prefer to return merchandise in-store, GEODIS City Delivery has an alliance with KIOSK Information Systems, a leading provider of automated self-service solutions. Customers can drop off returns quickly and safely through self-service automation. This solution involves purpose-built kiosks developed in partnership with Doddle, a returns software provider. Through Doddle's omnichannel integration, a customer can easily start the return process online and drop off the items in-store using a returns kiosk. The retail staff receives notifications to sweep the returns kiosks and drivers then pick up these packages and bring them back to the fulfillment center, allowing products to be resold rather than sitting unwanted in a customer's home.
GEODIS City Delivery makes certain that each Zipline driver, or local hero, receives proper training before making any deliveries or returns. Unlike many crowdsourced apps, GEODIS City Delivery can customize driver training based on each client's particular needs. This coaching ensures that Zipline drivers enhance the last-mile experience, helping brands avoid the risk of a blow to public image because of bad customer service. And if questions arise while a driver is out and about, the responsive Driver Support Team is always ready to help.
Last-mile delivery and returns processes are essential parts of the consumer experience, and negative encounters with unqualified couriers or gig workers can reflect poorly on brands. This is why GEODIS City Delivery educates Zipline drivers on the best delivery and returns practices for your unique business. Your business goals are different—why should your fulfillment strategy be the same as the rest? As your growth partner, GEODIS City Delivery helps you align your approach to last-mile delivery and returns with your customer service requirements.
As e-commerce grows, don't let returns be a major source of loss. A returns season like no other calls for a logistics partner that thinks outside the box. See how our trained local heroes can return unwanted packages to the supply chain with GEODIS Zipline.
Original post: https://www.linkedin.com/pulse/out-of-the-box-logistics-unprecedented-returns-season-gina-anderson-1c/
Commentary by Anne Guenther, Strategic Marketing Director
KIOSK Information Systems