Custom Application Development
KIOSK's philosophy revolves around finding the optimal cost-benefit approach for each customer's solution set. An initial consultation extracts the desired transaction functionality paired with high-level customer experience objectives unique to the deployment.
Within the early definition phases, KIOSK's Software Engineering Team assesses opportunities to apply proven code assets gained from prior successful industry deployments to minimize overall programming costs and timelines. From this initial discovery phase, KIOSK will recommend, quote, and manage one of three typical solution paths:
Customize existing core modules
Create entirely new code
Assist customer's internal IT or third party development team
Design Criteria Conception
Phase 1
KIOSK starts with a high-level design criteria interview to guide the application requirements gathering process. Initial customer engagement and transaction requirements are outlined for each application module, including:
Transaction behavior and component support needs
Content elements and desired sequence flow
API interface / integration documentation review
Security and data storage
Payment specifications
User demographics and interface language(s)
Creative branding / marketing needs
Reporting requests
Service and maintenance needs
Success criteria metrics
From this consultation, KIOSK presents an initial client project schedule and cost estimate range.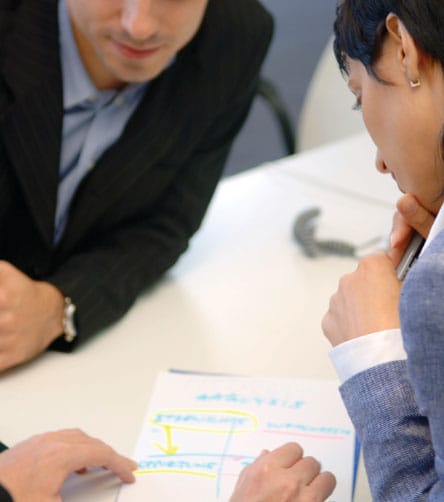 System Design
Phase 2
Following receipt of the customer development deposit order (authorizing the detailed System Design), KIOSK launches the System Requirements and Specifications (SRS) design phase with dedicated Development Engineers and Program Management team members. Comprehensive deliverables are created and reviewed with the client, soliciting and integrating iterative feedback cycles. This process results in a detailed Statement of Work (SOW), including:
Full screen content narrative / navigation
Flow diagrams
Screen layout / graphics
Component interaction / transaction provisions
Refined schedule and quote aligned with scope
Upon acceptance, the SOW serves as the mutually agreed upon framework for formal system coding to begin.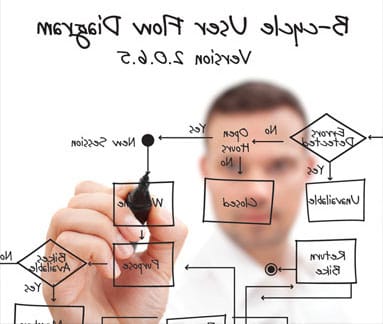 Hardware Release / Application Development
Phase 3
After SRS approval, clients place the overall program development order.
Upon receipt, KIOSK purchases hardware components for the development bench test kit to prove out system-level component functionality during coding, as well as debug during design and pilot project phases. Parallel progress between Mechanical and Software Engineers ensures the shortest development cycle for a finished prototype.
Simultaneously, client assets and authorizations are exchanged to launch formal coding. KIOSK manages a consistent client communication cycle, integrating feedback on Beta Code design, functionality, and development timeline progress.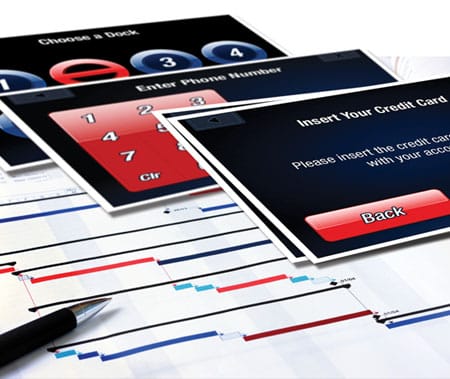 Development Review and QA
Phase 4
Following KIOSK's delivery of the Release Candidate Application, the formal client review cycle gets underway. User Acceptance Testing is typically conducted as a face-to-face meeting (alternately via web view). Together, KIOSK and the client conduct:
Comprehensive use-case scenarios
Complete transaction testing, validating component functionality
Full QA test, in line with procedures defined in System Design
Installation guideline review
Client feedback received during the development review is executed and retested until the entire application meets customer approval.
The Release Candidate Application is then signed off by the client and becomes the Master Application Image.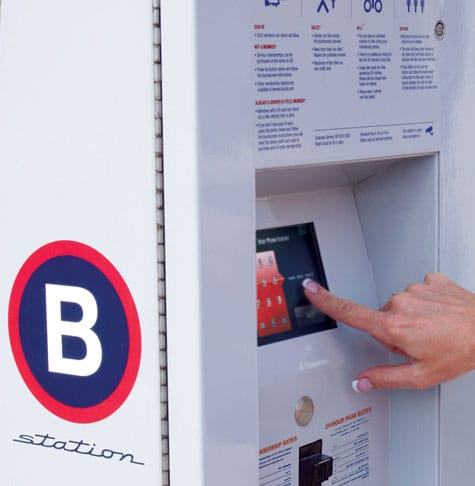 Program Deployment
Phase 5
Following a "soft launch," deployment can be executed independently, or by KIOSK professionals. Site preparation, installation, and on-site developer assistance are all readily available turnkey services. The Application Development Team remains intact to quickly resolve any post-deployment bugs that may arise. Post deployment support is an included service for an initial 30-day window following field placement. Application support service is available over the life of the project and is contracted annually by clients who select extended support.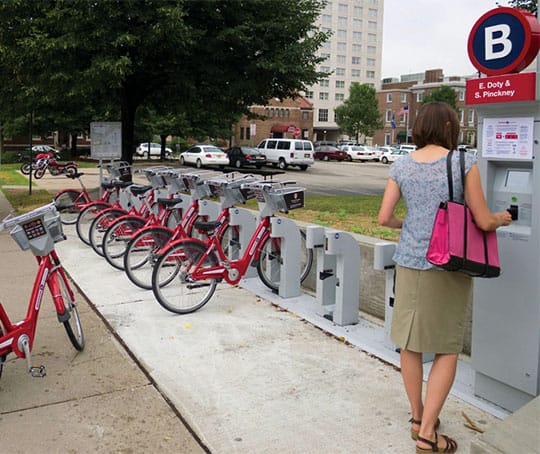 Kiosk Remote Management
KNECT IoT is a remote management software platform that provides the essential foundation for an easily managed and successful kiosk deployment.  The platform leverages the Internet of Things, enabling real-time system and component-level alerts, as well as automated IoT campaigns on what actions to take based on the nature of the alert (i.e. remote re-boot, email/text path, escalations, etc.).  Leveraging these automation features enables users to optimize uptime and maximize efficiency.
KNECT IoT facilitates live data exchanges between the deployed kiosk Client and the Cloud Server, providing real-time performance alerts of the elements that drive uptime, customer experience, and your brand reputation in the field:
System connectivity
Status of kiosk applications
Component performance and maintenance alert status. Components include receipt and thermal printers, card and check readers, bill acceptors / dispensers, scanners, card dispensers, and more.
Intuitive dashboard management tools simplify network setup and day-to-day management tasks including:
Installation and updates
Kiosk administration, user management and security
Reporting and logging
Call for a KNECT IoT platform demonstration or a quote on KIOSK turnkey active remote monitoring (managed service, where we monitor / manage for you).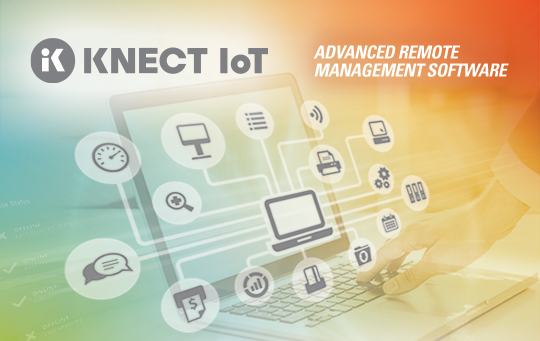 Contact Us for More Details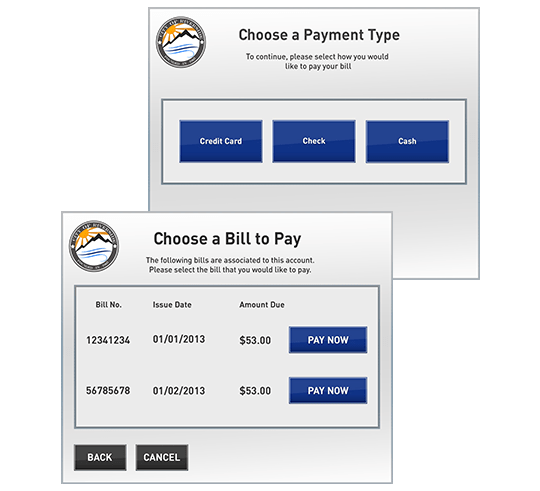 Bill Payment Software
KIOSK's Bill Payment software has been successfully deployed nationwide in retail locations providing electronic payment and money transfer services.
Base Bill Pay Capabilities
Transaction
Authentication
Licensing
Remote Monitoring
Hardware Provider Layer
Layered application functionality can be added at any time for enhanced revenue & faster ROI. Most commonly included:
Base Bill Pay Advertising Features
Mobile, LCD, or printable offers to enhance sales
Upsell / cross-sell presentation
Auto-scheduler for easy content distribution
Base Bill Pay provides turnkey transaction and network management functionality with customization / feature options for an efficient and secure path to market.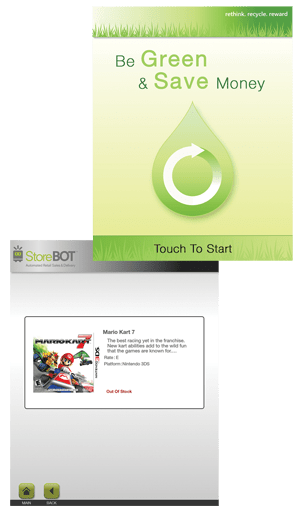 Vending
The Automated Retail Vending platform includes a sophisticated software set used to provide an enhanced customer experience and to optimize backend efficiency.
Engaging Sales Interface
A customized consumer user interface provides extensive guided selling and product selection information. Rich product information facilitates independent purchasing decisions, while up-sell prompts can increase average order size. The sales application provides consumers with brand selection that rivals an online ordering experience with immediate delivery from the kiosk.
Layered Application Functionality. Revenue enhancing applications are available from day one or can be added incrementally to the deployment.
Advertising & Coupon Delivery. Ad content and optional mobile / printed coupons can substantially boost sales.
Remote Monitoring and Wireless Communications. Remote monitoring is a standard tool enabling full visibility and management of networked equipment. Options for USB cellular and / or local network communications.
Rental Solutions
KIOSK has extensive experience in customized rental system design. Our Solutions Group has assembled a complete library of controller board and application code assets that can be customized to individual client needs. This provides a menu-driven, modular approach to rental feature inclusion. Using existing common solution assets enables clients to substantially reduce development costs and timelines.
Key features of KIOSK's Rental Solution portfolio
Customized user interface (kiosk, mobile application, or both)
Hardware controls for rental asset access related kiosk components:
Payment transaction components
User authentication scanning components (simple barcode / QR code, or biometric)
RFID sensors for intelligent, real-time tracking of rental assets (check-out, return, location)
RFID card-based rental release access (member application option)
Proprietary controller board releases multiple rental bays (reduces hardware and service costs)
Back-end integration to retailer's POS / reporting systems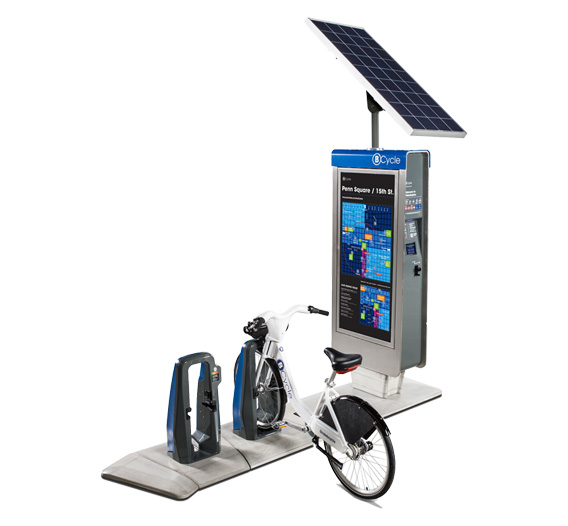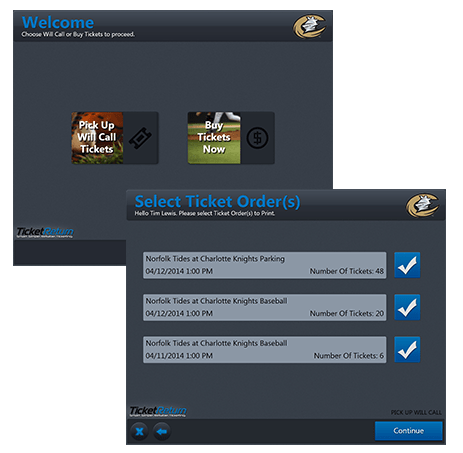 Ticketing Software
Modular Application Design
KIOSK's Application Development Team provides licensable code modules to support a complete base of ticket delivery, retrieval and transaction management requirements. It facilitates a simple user flow with fast processing, ensuring a positive self-service customer experience.
Base Ticket Application Functionality
KIOSK's Base Ticket application manages hardware controls for all key components to support ticket purchase and verification transactions. The user interface (UI) flow is client-customized. Payment processing application is also an option to license.
The library of standardized ticketing application modules supports common consumer transactions, including:
Guided ticket selection (UI)
Intelligent inventory capabilities
Sale, ticket print, and receipt
Advertising and coupon presentation
Complete remote monitoring
Backend integration and UI customizations are custom quoted
Custom features are readily supported. KIOSK Software Professionals are available for consultation.
Mobile Applications
Mobile apps can be an invaluable element in consumer adoption of a self-service platform but can't always stand alone.  While mobile is often an ideal complement to a traditional fixed kiosk, there are still key kiosk components needed to drive "bread and butter" transactions (outside the scope of a phone / tablet):
Payment and Cash acceptance
Change / receipt disbursement
Rental asset release / return recognition
Physical card delivery (prepaid & loyalty)
Merchandise scans / auto delivery
Clients generally begin with the kiosk application design for any transactional "heavy lifting," and build mobile features with supporting features to expand consumer convenience and virtual adoption. Valuable complementary mobile platform opportunities include (not all inclusive):
Product ordering / reservations / location services
Increased sales through mobile advertising
Upsell / cross-sell products
Our Solution Development Team can expertly pair your Kiosk UI with a sleek complementary mobile app, enabling you to capitalize on the best of both.