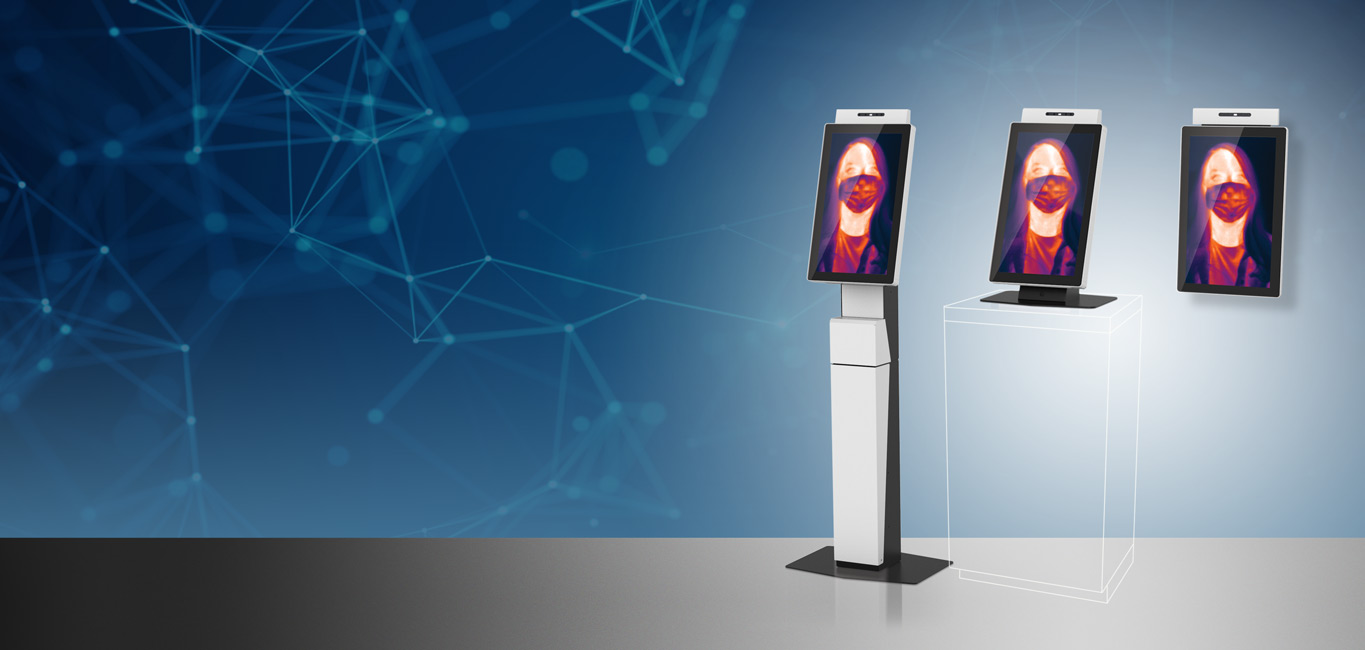 Temperature Screening Kiosk
Non-touch body surface temperature screening for business re-opening
Contactless Temperature Screening
In this COVID-19 pandemic era; businesses are creating new safety protocols, including temperature screening measures to routinely provide additional safeguards for employees, retail customers, and venue patrons entering many different types of facilities.
The Access kiosk provides contactless, self-service technology to measure customers and visitors for "at risk" temperatures at the point of admittance. KIOSK's product utilizes a proximity reader to detect the presence of a person and activates the user interface prompt without touching the screen. The person is then scanned by a contactless thermal camera to read and report the individual's temperature to an operator. The thermographic camera and related system software provide a temp scan with accuracy of ± .5°C. The system software provides the actual temperature data measured and the status of "not elevated " or "elevated" (elevated status threshold is 100.4°F, per CDC guidelines). The operator then has the appropriate information to either enact secondary screening measures or grant entry based on facility protocols and policies.*
The thermographic camera provides a temp scan
with accuracy of ± 0.5°C
The Access series utilizes a 21.5" standard portrait PCAP display for clear presentation of the user interface. The fully enclosed form factor is built to withstand years of unattended use and is far more ruggedized than tripod-based camera mounting solutions. Each platform is equipped with automated facial detection and temperature measurement software. Based on the temperature output, the user is visually cued on-screen to either continue or wait for assistance (messages and range numbers are configurable).
Utilizing contactless self-service technology for "at-risk" temperature screening tasks eliminates person to person interaction, thereby reducing virus transmission potential between the operator and the person being screened. Further, automation reduces labor overhead associated with paid personnel managing this repetitive function.

* The Access temperature measurement kiosk is a telethermographic system intended for adjunctive temperature data screening during the COVID-19 pandemic. It should not be solely or primarily relied upon to diagnose or exclude a diagnosis of COVID-19, or any other disease. Elevated body temperature in the context of use should be confirmed with secondary evaluation methods (e.g., an NCIT or clinical grade contact thermometer). Public health officials, through their experience with the device in the particular environment of use, should determine the significance of any fever or elevated temperature based on the skin telethermographic temperature measurement. The technology should be used to measure only one subject's temperature at a time.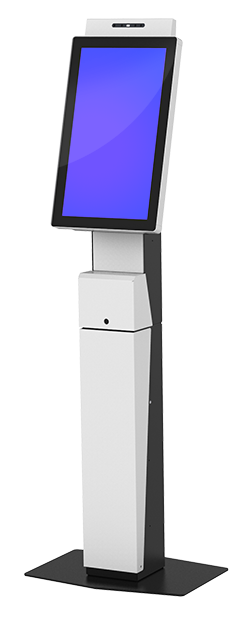 CONTACT US FOR MORE DETAILS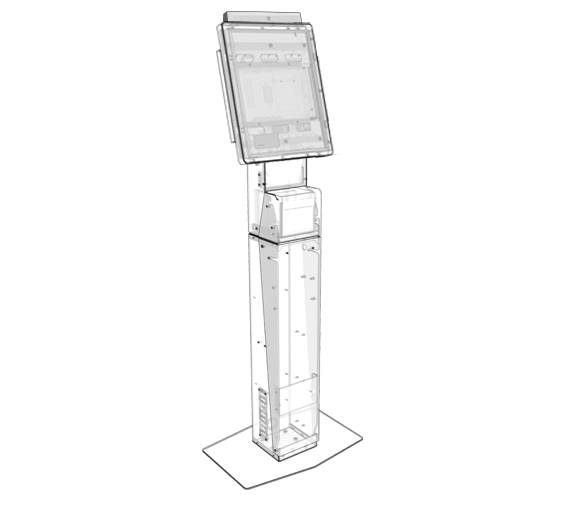 Models & Dimensions
Base Model Includes
Durable Powder Coated Steel Enclosure
Posiflex KK3000 PC (I3 or I5 Processor)
Posiflex 21.5" PCAP Touch Monitor
Dermalog Fever Detection Camera FLC1
Base Plate – Pedestal or Countertop
Vesa Mount for Wall-Mounted Model
Options Include:
For VARs and ISVs with additional software functionality, the Access series can be configured to house thermal and Dymo label printers, navigation pads and RFID contactless badge readers.
Enclosure Dimensions
21.5-Inch Pedestal Display:
Kiosk Height – 61.9″ (inches)
Kiosk Width – 13.2″
Kiosk Depth – 8.2″
Base Plate Width – 20.3″
Base Plate Depth – 14.2″
21.5-Inch Countertop Display:
Kiosk Height – 24.7″ (inches)
Kiosk Width – 13.2″
Kiosk Depth – 8.2″
Base Plate Width – 16″
Base Plate Depth – 11.9″
21.5-Inch Wallmount Display:
Kiosk Height – 23.7″ (inches)
Kiosk Width – 13.2″
Kiosk Depth – ~5.7″ (depending on final vesa mount selection)
*This is not an FDA-cleared device.
Please contact us if you have any questions or comments.
888.661.1697 / Toll Free
303.466.5471 / Telephone
303.466.6730 / Fax