Temperature Screening and Digital Signage in partnership with VSBLTY
Automated Temperature Screening and Interactive Digital Signage
New norms and market dynamics are transforming retail interactions. As retailers navigate new ways of doing business, technology is enabling innovative options to safeguard associates and deliver smart interactive digital content. Through the partnership between KIOSK and VSBLTY, we can enable both digital signage customer engagement, as well as temperature screening check-in kiosks for added employee safety measures.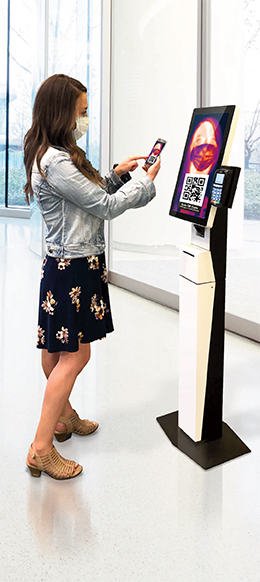 Temperature Screening Check-In
To safeguard employees in today's climate, retailers need self-service technology to measure "at risk" temperatures at the point of admittance. KIOSK and VSBLTY's joint temperature sensing solution with facial recognition allows employees to walk up to a kiosk and get scanned for an elevated temperature without attendant intervention, and without touching the screen. Optional software features include access control integration and touchless health surveys delivered via scannable QR codes.
To learn more:
Interactive Digital Signage
With evolving market dynamics, come new opportunities to leverage digital experiences in-store.  This is especially true in multi-format stores where retailers are expanding offerings with online and resale products, as well as pop ups.
Retailers can attract customers in-store with dynamic signage that promotes and measures engagement with a new category offering like secondhand and resale clothing. Based on the consumer's demographics, stores can present targeted ad content featuring product suggestions based on in-store inventory supplemented with in-store browsing of wider online inventory. When retailers can leverage data insights on visit and purchasing behaviors, it increases opportunities to capture customer attention in-store; connect buyers with what they need, and positively impact sales conversions.
For questions or to learn more, please complete this brief form and we'll connect with you as soon as possible.
For more info, please submit this form to get connected: