Retail Kiosks
KIOSK supports a full range of products for Retail kiosk solutions, with proven platforms in:
In-Store Money Services / Bill Payment Kiosks
Customer Loyalty
Gift Card Delivery
Endless Aisle / Ordering
Rental Systems
Locker Systems for package delivery, IT asset management, and phone charging
KIOSK's range of retail solutions reduce operating and transaction costs, increase sales and loyalty, while enhancing today's consumer experience. Full field and managed services simplify the demands of nationwide retail deployments.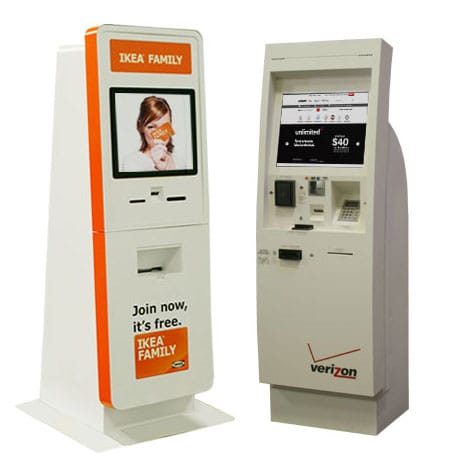 Order Entry Kiosks
KIOSK offers a spectrum of ordering application platforms to drive in-store efficiency and profitability. KIOSK's Retail Order Entry solutions improve the customer experience, reduce transaction costs, and boost sales revenues. Platforms provide an intuitive customer experience, with consistent presentation of up-sell prompts and promotions. KIOSK's also offers a complete line of world class Point of Sale devices with our Parent company, Posiflex. You can find more about our Point of Sale solutions here.
Vending & Rental Kiosks
KIOSK's locker-based vending solutions offer cost-effective sales footprint expansion, theft prevention, and secure self-service sales delivery in unattended environments.
KIOSK has developed very custom platforms for bike sharing world-wide, deployed as part of large city infrastructure in the US and Internationally. Highly custom stroller rental kiosks, and equipment rental platforms are also part of KIOSK's rental portfolio.
Development teams in both kiosk hardware and software work in tandem to provide reliable rental and tracking solutions.