Digital Signage Solution & Kiosk Manufacturer
Sleek and modern solutions for digital signage
Digital Signage Overview
Interactive digital signage kiosks are a technology staple for displaying relevant information and engaging patrons in Retail and across several other key industries. Intelligence-enabled signage allows retailers to interact with consumers, providing relevant and targeted ad content and information. KIOSK offers interactive digital signage kiosks with sophisticated artificial intelligence features to help deployers maximize the return on their signage investment and enhance today's omnichannel shopping experience.
Digital Kiosk Solutions:
Offer consistent branding across several digital signage locations or groupings
Reduce costs by streamlining the customer journey
Offer an interactive solution for customers not interested in engaging with a sales associate
Add value to the overall customer experience
Digital Signage Features Can Include:
Interactive touchscreens of varying sizes
Support for multiple languages
A cloud-based CMS for content management
The ability to deploy to any location
Audience analytics to help make smarter ad content decisions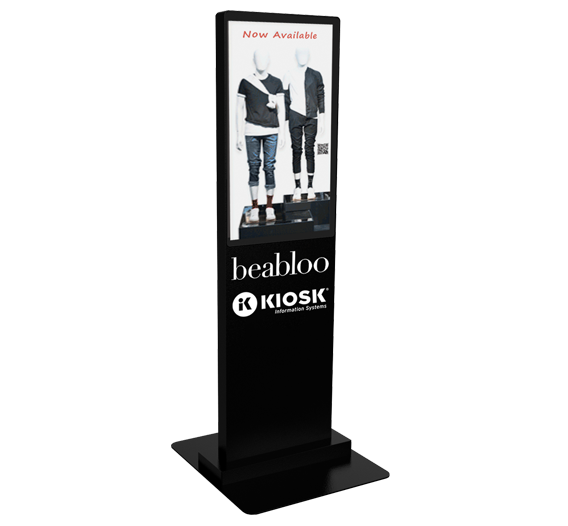 Beabloo Partnership
KIOSK has partnered with Beabloo, a pioneering digital signage and artificial intelligence technology company to maximize the features, value, and return we can provide our clients. This partnership creates a wholistic offering that combines attractive and sleek hardware with intelligent software that is purpose-built for digitization of brick and mortar locations.
Our platform includes Beabloo's Active Customer Intelligence Suite, which is based on video analytics with anonymous facial recognition technology to detect and analyze patron faces in real time. This anonymity ensures user's privacy while still providing real-time data to the retailer that enables relevant content automation. The facial recognition software detects when an individual looks at the integrated camera and then records those customer demographic data and engagement statistics for the retailer. This technology transforms standard digital signage into an automated and dynamic interactive kiosk experience, with curated ad content based on:
User's gender
Impressions
Attention time
Age range
This digital content can include:
Product facts, stats, and information
Recommendations for other products, future visit, events, etc.
Limited time offers
Current and future promotions
Other interactive content as needed
Another great feature of the joint offering is the use of QR codes. Shoppers can scan QR codes from the digital signage kiosk screens and capture content on their phone. This feature enables consumers to take information and / or promotions with them to complete a purchase at a future time through any other channel. This is a great way to capitalize on foot traffic and stay engaged with customers that are not ready to purchase on the spot.
Benefits of digital signage and artificial intelligent marketing don't stop with the consumer. Retailers also experience many benefits. Intelligence digital signage allows retailers to:
Improve efficiency of marketing campaigns
Segment messages according to visitor profiles
Optimizing display content quickly and on-the-fly
Improve the customer shopping experience
Improve advertising content engagement
Reduce costs of marketing spend
And ultimately, obtain a higher signage ROI through targeted advertising
Using AI-enabled digital signage kiosks ultimately leads to a higher return on signage investment for retailers.
Our smart digital signage solutions with Beabloo goes a step farther with a simple analytics dashboard. This user-friendly dashboard helps retailers manage their advertising decisions. Dashboards include:
Shopper demographic data
Content preferences
Digital signage campaign analytics
Sales metrics
Store inventory
To have a successful digital signage deployment, companies must make sure they're leveraging accurate data to help optimize business operations in real time. In our partnership with Beabloo, dynamic signage solutions can be further integrated with Beabloo's stock management module, Minerva. This advanced artificial intelligence module leverages real-time stock system data to prioritize ad content tied to in-stock products. This allows retailers to automatically focus on products they know they have in-house without having to manually restage or reorganize advertisements.
The Beabloo Active Customer Intelligence Suite adds to digital signage interactions. The digitization that occurs by gaining customer attention during their buying journey bridges digital interactions to physical spaces. The Beabloo and KIOSK technology improves the interactive customer experience while boosting in-store engagement and sales. A solid digital strategy offers benefits for both consumers and retailers and covers the entire retail customer journey.
Contact a KIOSK Representative for more information on our world-class digital signage kiosk solutions today. We have several experts on-hand to help you decide the best way for you to take full advantage of digital signage.
And visit the Beabloo website for more information on their intelligent digital signage software.