Kiosk – Self Service Simplified
Since 1993, KIOSK has led the industry in design and manufacturing of self-service solutions. We provide highly specialized experts to surround every aspect of the project, executing personalized customer deliverables in parallel.
In-house services encompass every aspect of customized solution design:
Hardware Enclosure Design
Software Application Design
Flexible Volume Manufacturing
ISO Certified Standards
Safety Agency Certifications
Complete Deployment Services
Advanced Field and Managed Services
Project teams integrate all deliverables within a single professional campus, stream-lining communications tied to consistent first pass success.
With over 200,000 units successfully deployed, KIOSK has deep experience in a full complement of vertical markets, providing niche expertise in both platform creation and volume deployment support. OEM and end customer projects range from traditional applications in retail; bill payment, and HR to highly custom multi-function banking, vending, smart locker and border security solutions. With 25+ years entirely dedicated to the art of self-service, KIOSK has the passion, expertise, and resources to greatly simplify your path to market.
Frost & Sullivan firmly believes that KIOSK Information Systems has established itself as a dominant player in the interactive kiosks market as a direct consequence of its ability to bring innovative technology to its kiosks and its continuing efforts for global and vertical expansion.


Parent and Sister Companies
In 2016, KIOSK was acquired by Posiflex Technology, Inc., a global leader in POS solution design and manufacturing. In 2017, Posiflex also acquired Portwell, a global industry leader in state of the art computing solutions. This parent – sister company relationship enables KIOSK to self-source many of the key components in our self-service solutions (e.g., all-in-one PCs, PCAP LCDs, scanners, printers, etc.).
Benefits of using Posiflex and Portwell components include:
Price advantage and cost reduction opportunity over time
Much longer life cycles than industry average
Supply chain control
Exceptional quality and reliability
Further, this family of companies affords KIOSK clients new access to mature international manufacturing and distribution capabilities for overseas project execution. The Posiflex Group has world-class facilities in the US, Taiwan, Japan, Germany, and the Netherlands, supplemented with Sales and Distribution in 19 cities around the globe.
These strategic acquisitions have provided a singular value proposition in the industry – one that we are delighted to pass on to our prospects and customers.
We invite you to preview parent and sister companies' complementary POS and computing product lines at their respective websites.
Kiosk Facilities – Come See The Difference Yourself
In-house services are all-inclusive, enabling KIOSK to control total project quality and timing. The 115,000-square-foot manufacturing and development campus is 100% dedicated to self-service solution design, continuing a 25+ year business model. Services are ISO9001:2015 and ISO14001:2015 certified. They include:
Comprehensive fabrication equipment for laser-cut metals, paint, and custom graphic art provide much lower costs, faster lead-times (prototype & production), and full quality control
Flexible "burst manufacturing" to accommodate a full range of volume needs (1, 10, or several hundred per week)
Turnkey Safety Agency Certifications
Extensive professional support teams in Engineering, Industrial Design, Software Development, Program Management, Manufacturing, Quality, and Customer Services
This "single roof" set-up enables KIOSK to maintain the agility / responsiveness of a small company, with the execution caliber of a large corporate entity.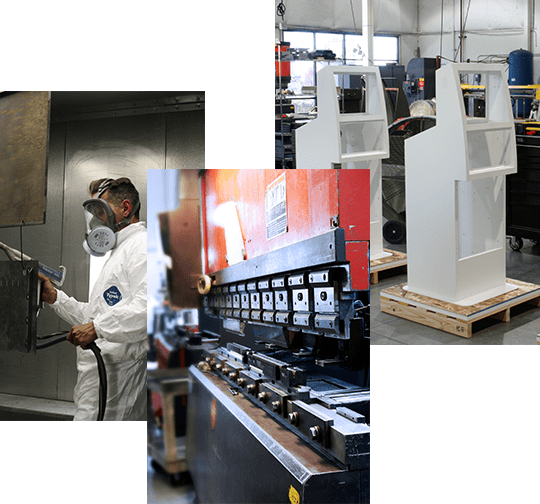 All kiosk companies are not created equal. KIOSK is in a class by themselves when it comes to manufacturing quality, cost effective products.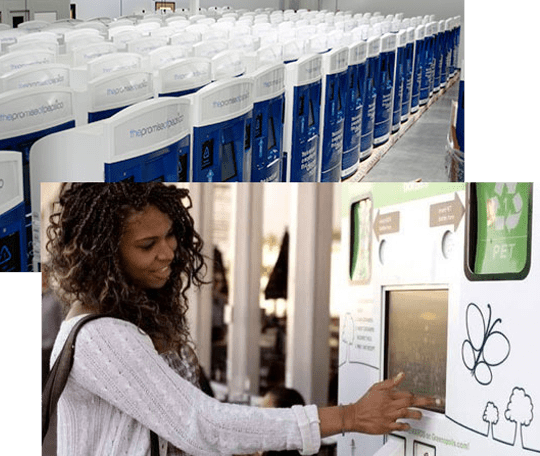 My experience with KIOSK was always positive. They are inventive, creative and built my products to a level of quality that enhanced my brand and business. Wouldn't work with anyone else.
Custom Design? Bring It On
KIOSK is the World Leader in Custom Solution Design (well >50% of production). Our team of Mechanical, Industrial, Robotic, and Software Engineers collectively provide the most sophisticated range of technical development skills available in the industry.
Combining these specialized disciplines, KIOSK developed a proprietary design process (ISO9001:2015 Certified) that expertly navigates all the key considerations of a custom design experience.  This continually evolving tool leverages the design nuances and experience gained in thousands of prior designs, ensuring consistent first-pass prototype success.  This process tool accelerates time to market and eliminates costly rework steps.
KIOSK designs from the inside-out, eliminating "one-size-fits-all" limitations. Ongoing technology investments in CAD design tools and in-house prototype manufacturing equipment enable our Engineers to anticipate and lead all key elements of custom design (aesthetics, manufacturability, field reliability, serviceability, and cost). Learn much more about custom kiosks.
Meeting ADA Standards
ADA Compliance is a universal design consideration for KIOSK Information Systems. Standard kiosk models have been designed with consideration given to the most recently implemented American and European disability access guidelines.
Certain models may require keyboard access, a tactile navigation pad, or an ADA presentation option button on the user interface (simply lowers the transaction buttons).
Upon request, KIOSK can facilitate an independent review of the client's full solution. This review can include an accessibility critique of the overall hardware design, component offerings, and software presentation. This third party assessment is an added precautionary step to review all elements of the solution for accessibility.
Official ADA.gov regulations document download: 2010 ADA Standards for Accessible Design.
KIOSK's expert Sales Representatives would be happy to answer any ADA clarifying questions during standard model selection, or custom solution design phases.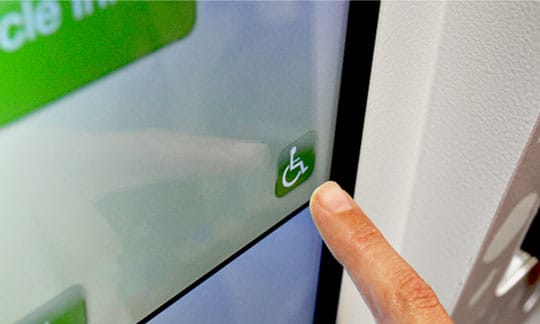 KIOSK is committed to providing excellent and thoughtful design.
Quality and Environmental Responsibility
By definition, 24/7 uptime is the quality standard for kiosks. We recognize that quality in the field directly ties to tight QA process control in our factory. KIOSK holds ISO 9001:2015 Certification on all customer-facing processes, bringing objective evidence of the highest measures of process and quality control.
Key ISO Certified Disciplines
Design Engineering – 70+ design check points are considered to build quality control into the kiosk design itself. Key design quality factors are methodically anticipated, rather than corrected in the field.
Manufacturing – before shipping, each kiosk passes dual quality checks (50 – 70 point mechanical / electrical). All production is under one roof, ensuring total process control.
Field Support – all manufacturing and component records are bar-coded / serialized in the factory, providing accurate / on-demand field service records.
Further, KIOSK's facilities are ISO14000:2015 Certified, ensuring environmentally responsible manufacturing. Download KIOSK's Environmental Policy.
Safety Agency Certifications
KIOSK provides turnkey management of UL and FCC safety agency certification procedures, enabling parallel progress to be made on certification submittals during the design and prototyping stages.  KIOSK has senior staff who have worked with and for regulatory agencies like UL for 35 years.  This staff expertise and insight on UL certification requirements enables our team to factor optimized safety into each unit as it is designed and released.  KIOSK holds UL Listings for over 120 products currently, including 15 products Listed to UL's latest safety standard for Information Technology Equipment, UL 62368-1.
Further, KIOSK has invested in an on-site engineering lab to support in-house testing. By performing the actual testing in-house, KIOSK is now able to bring the UL engineer on-site, rather than shipping units back and forth with UL. This approach can easily save four to six weeks in certification cycle time, substantially shrinking time to market release.
The KIOSK compliance lab recently received accreditation to ISO17025, 3rd edition, enabling KIOSK compliance staff to conduct testing locally for international standards like IEC 60950-1 and IEC 62368-1, and to assist in the creation of CB Scheme reports.  This allows us to reduce the longer cycle times for obtaining a CE mark on the kiosks.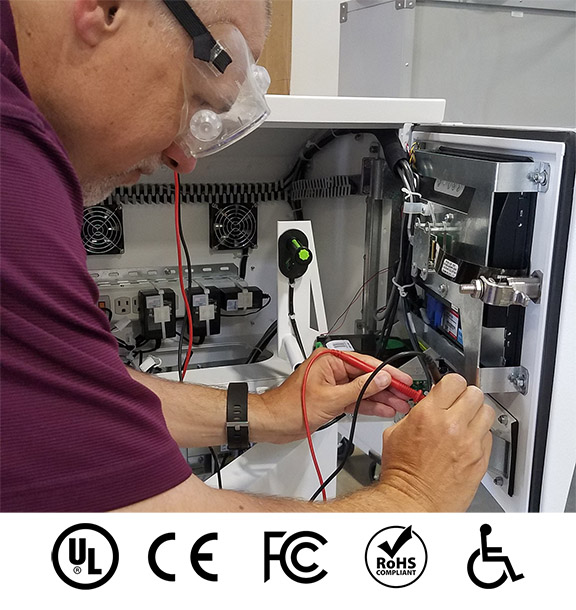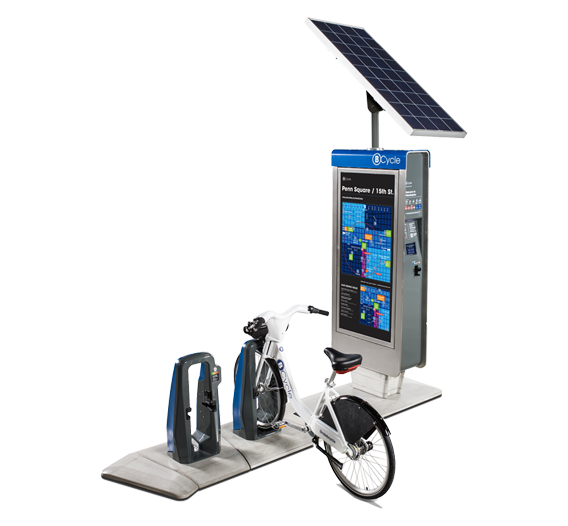 Speed to Market
On Time and On Budget
By utilizing proven modular design disciplines in both software and hardware, KIOSK can substantially shrink solution development efforts and timelines. A modular approach enables clients to leverage the experience gained from thousands of prior deployments (enclosure design and software code elements), rather than adding time and money "re-inventing the wheel."
KIOSK teams nurture initial designs through small volume proto / pilot phases required in most new projects. When the time comes, flexible "burst manufacturing" capability enables execution of steep production ramp volumes (up to hundreds / day) for nationwide staging and deployment.
Total in-house services from full manufacturing to application development ensure all tracks of your project are expertly managed in parallel; saving time, money, and hassle.
Buy America
For an increasing number of customers, buying US manufactured goods is a key bid evaluation factor.
KIOSK utilizes metals and components (to the extent possible) which are manufactured / sourced in America. Design, manufacturing, integration, and factory support services come directly from our professional campus in Louisville, Colorado. Meaning, the same experts who manufacture your product, also domestically support it.
US sourcing can directly impact project success and total cost of ownership (TCO) in several ways:
Product lead time (initial manufacturing and ongoing deployment)
Centralized domestic parts logistics (supports consistent overnight resolution of field issues)
Better deployment staging support
Reduced shipping costs
Aside from better support and lower cost, US sourcing decisions directly impact domestic manufacturing jobs. And – yes, it does matter.