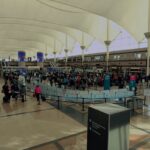 Self-Service,
Simplified
KIOSK brings automation to life, transforming operational efficiency and elevating daily customer experiences. We streamline complete and connected solutions with unparalleled development, manufacturing, and support.
Explore Kiosk Solutions
250K+ Kiosk Deployments

IoT Remote Monitoring

≥98.5% Uptime SLAs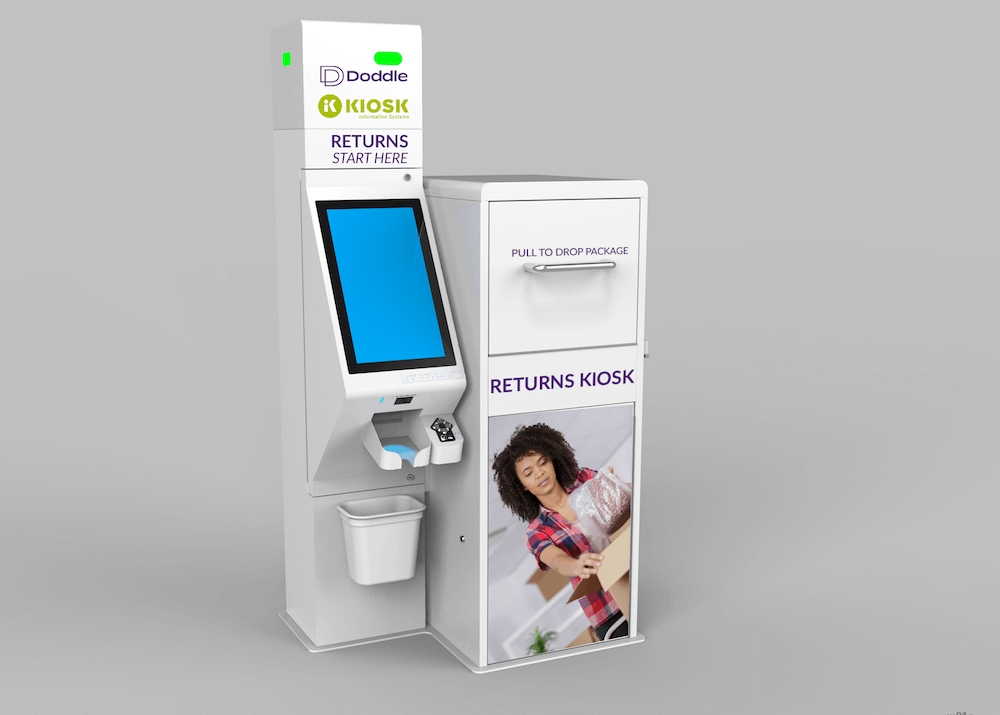 Streamlining the Retail Return Process
Online shopping is more popular than ever, and more web purchases lead to more customer returns. In partnership with Doddle and Inmar, KIOSK is offering a seamless solution to automate in-store returns. Our kiosks for returns take return processing out of retail employee's hands while enhancing the guest experience.
Enables customers to quickly drop off return items, leaving more time for shopping
Drives in-store foot traffic
Intuitive user interface for customer transactions on the front end and for back end employee tasks
Returns Kiosks
We make custom Kiosk Machines that bring automation to life.
We've implemented thousands of self-service kiosks around the world, from small businesses to Fortune 100 and Government clients. Our solutions experience spans projects from informational kiosks, such as digital signs, to transactional kiosks including Bitcoin ATM and Bill Pay, to interactive experiences like video support and endless aisle.
Information Kiosks Overview
Information kiosks are interactive terminals that provide users with access to relevant information. Featuring touchscreens, they allow users to navigate menus, search for information, view maps, directories, and more. Information kiosks enhance customer experience through self-service access to valuable information.
As a kiosk manufacturer with over 25 years of experience, our kiosk machines are engineered using the latest kiosk technology. If you are looking to buy a kiosk, contact our sales team today
Total Solutions Development
We aren't just kiosk builders; we write kiosk computer software.
Enclosure Design Engineering:
Technical design resources at your disposal includes a full complement of highly specialized professions:
Industrial Design
Mechanical, Electrical, and Robotic Engineering
Firmware
Safety agency compliance engineers
Our teams design each unit from the inside out, based on unique project transaction component needs. Enclosure design capabilities range from uniquely integrated standard models to highly sophisticated full-custom designs.
KIOSK's modular design disciplines support individualized project delivery, completely removing one-size-fits-all constraints. Kiosks engineering team has the deepest portfolio of standard and custom designs in the industry. Once the functional and transactional requirements for a project are identified design concepts are provided to pinpoint the ideal solution look and feel. From there, kiosk mechanical engineers build-out CAD models, design features, and component placements, optimizing appearance, usability, manufacturability and the simplest field service access.
KIOSK also has in-house compliance engineering and testing facilities to manage preparations for UL, CE and international safety agency certifications.
We Source from Within
Our US-based design team works closely with the engineers and kiosks parent company, Posiflex and our sister company, Portwell, in Taiwan. Posiflex, a world leader in point-of-sale and kiosk solutions, is also a premier design and development firm for reliable all-in-one PCs, printers, scanners, and displays. Portwell is a world leader in specialized computing design and manufacturing, with products that are ideal for custom and outdoor projects. Our ability to self-source key components within our family of companies brings singular supply chain control and industry price advantage. KIOSK hosts every solution manufacturing element within our professional campus, including extensive in-house metal fabrication, metal preparation, welding, painting, and artwork production capabilities. Our production team is known for agility and fast turn prototyping capabilities. Once the design is approved, KIOSK optimizes the manufacturing line for steep product ramp up and deployment staging.
Kiosk Software Development
As the leading kiosk supplier, we understand how important software is to a successful kiosk deployment. Our first-rate in-house development team specializes in self-service applications paired with remote monitoring and alerting.
KIOSK's Software Solutions Group has developed a library of transaction code modules that support a deep array of self-service functionality. Leveraging these existing code modules enables developers to efficiently customize client applications, minimizing development costs and timelines. Our best-in-class process methodologies guide full definition of System Requirements and Specifications, User Interface flow, and UI design. These disciplines establish solid development foundations. Once defined, a full statement of work is created and agile development begins. Applications are integrated on KIOSK's proprietary CORE K-Nect Remote Management platform, enabling dashboard control of a deployed kiosk network.
For over 25 years, KIOSK has proudly led the self-service kiosk industry.
Our teams of niche experts are here for one purpose – to make your kiosk machine project simple and successful – by implementing the specific requirements unique to your team's objectives. Our engineering, software developers, production, and support teams surround the project, executing closely coordinated parallel development paths to cut a clean and efficient path to market.
What do we do at KIOSK?
At a high level, we create custom self-service kiosk solutions for many vertical markets. 
In our base of over 250,000 deployed units, our solution experience spans projects in Payment and Money transfer Services; Retail Loyalty, Registry and endless aisle, Indoor and Outdoor Ticketing, Airport & Border Security Automation, Casino Sports Betting and Loyalty Services, Hospitality and Order Entry, Smart Lockers, and many other highly custom projects.
We Design and Engineer
We can safely say that no one in the industry has a deeper portfolio of standard and custom informational kiosk designs than KIOSK's Engineering Team.  It's a diverse team made up of Industrial Design, Mechanical, Electrical, Firmware and Safety Agency Compliance Engineering.
Once the functional and transactional requirements are known, clients are provided design concepts to land on the ideal look and feel for their kiosk technology solution.
From there, KIOSK Mechanical Engineers go to work on the CAD models, creating design features and component placements that will optimize appearance, manufacturability, and provide the simplest field service access.
Design elements like sliding component rails and trays, and tool-less design make the world of difference in serviceability.  We also have in-house compliance Engineering and testing facilities to manage UL listing preparations, along with CE and international safety agency certifications.
We Manufacture Kiosks in the US and Globally
As a state-of-the-art kiosk manufacturer, KIOSK has every solution manufacturing element within our professional campus.  This includes extensive in-house metal fabrication, metal preparation, welding, painting, and artwork production capability.  Our production team is known for agility with fast-turn prototyping capability.  Once the design is approved, KIOSK optimizes the manufacturing line for steep production ramp up and deployment staging. Our US and overseas Engineering, Software Development, and manufacturing teams collaborate closely– we cross-train, share and transfer designs to implement globally. Together, the Posiflex Group has over 1900 employees and 1,000,000 square feet of development and kiosk manufacturing facilities in the US, Asia, and Europe.
We Write Code
For projects with kiosk computer software requirements, KIOSK has a first-rate development team in-house who specialize in self-service kiosk technology applications paired with remote monitoring and alerting.  Our software dev teams around the world cross-train and collaborate to continually build out a full library of machine-readable components for IoT altering, providing real time network visibility and uptime management.  We're an agile development shop with modular, licensable code that saves our clients a fortune in development time and money.
We Provide Service and Support
There isn't a support service that KIOSK has left out.  From site surveys, installation, field service and spare parts management, to full sweep managed services and remote monitoring – we can support your deployment from day one to end-of-life and on to the next generation.
If you're looking to buy a kiosk for your retail, healthcare or hotel project, contact KIOSK's sales team for a quote.