Interactive Custom Design
Unparalleled Engineering Expertise for Custom Kiosk Solutions
Executing sophisticated self-service concepts is KIOSK's undisputed industry sweet spot. In fact, the more complex the design details, the quicker the market turns to KIOSK's niche custom engineering experience.
Our proprietary ISO9001:2015 certified design process has been fine-tuned by literally thousands of custom deployments – representing over half of the 200,000 KIOSK solutions in the field.
Leveraging KIOSK's design process expertise ensures clients of program simplicity and rapid first-pass design success, without sacrificing on inspiration and creativity. From small standard model component tweaks, to the most sophisticated self-service component integration projects – KIOSK will cut the cleanest path to overall program success.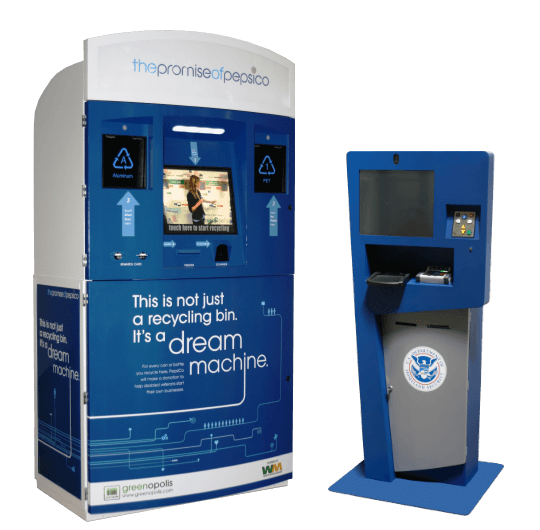 Design Criteria Conception
Phase 1
Initial client consultations are guided by KIOSK's Custom Engineering Process Document, covering over 70 key project points (under ISO9001:2015 certification). This proprietary document methodically creates the design criteria framework for all aspects of the new kiosk design; including target manufacturing budget, project schedule, component requirements, installation, and future functionality requirements.
This definition phase results in a completed Design Criteria Document which guides the Project Team members during the development process. This is a continuously evolving tool that KIOSK uses to anticipate all design issues up front and leverages the design nuances / experience gained on thousands of prior custom designs.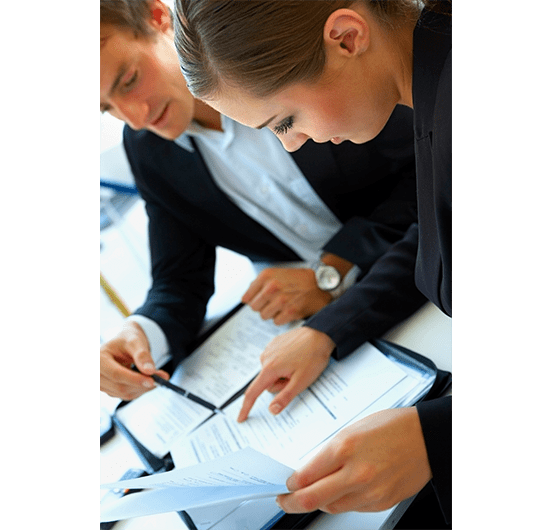 Component Evaluation & Modeling
Phase 2
KIOSK then procures required electronic components identified under the Design Criteria Document, bench testing each component with customer-specific software, ensuring full compatibility.
Clients review the component specifications and document approval. Next, KIOSK begins initial component layout modeling to include in the overall enclosure options.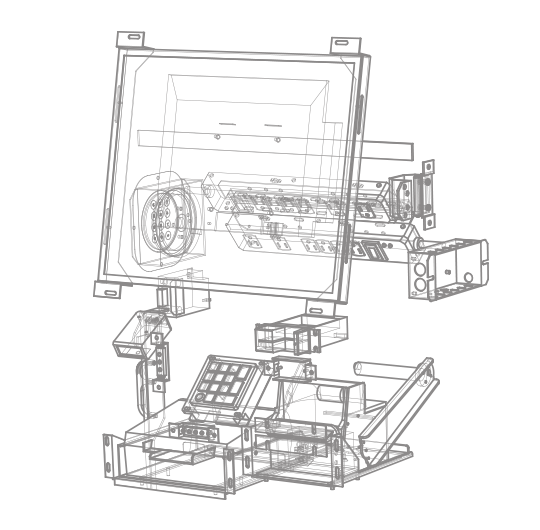 Industrial Design & Renderings
Phase 3
Following approval of the component set, KIOSK Industrial Designers develop initial renderings and internal drawings to prove correct component placement optimize equipment aesthetics.
This is an iterative and interactive process where KIOSK's Industrial and Mechanical Engineering teams work closely with the customer's Project Team to land on the optimal platform look and feel.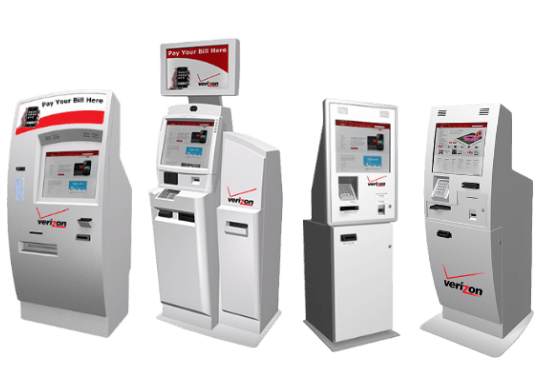 Mechanical Design & Review
Phase 4
KIOSK advances the industrial design on to complete the CAD modeling (computer aided design). A subsequent design review of the CAD model results in a summary checklist of change requests (if any).
As needed, KIOSK revises the drawings and generates renderings with optimally arranged and modeled components for customer feedback / approval. Any modifications are closed to customer guidelines, resulting in a finalized and signed design.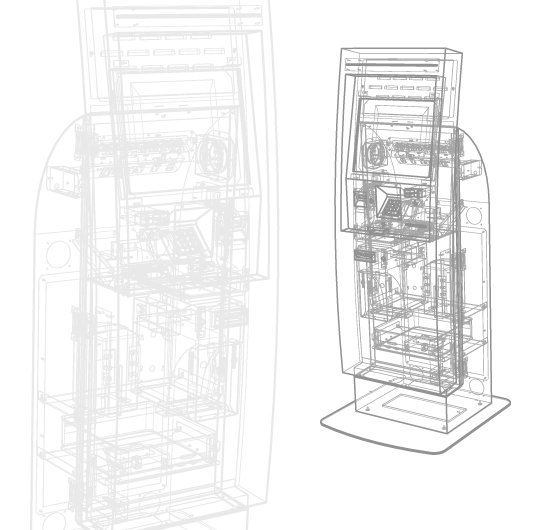 Agency Certification / Prototype Build
Phase 5
Post design review, KIOSK does a "dry fit" test – assembling all prototype components into the enclosure. Once built; paint, artwork, and final assembly are completed for first article production.
An extensive in-house prototype fabrication area enables KIOSK to execute custom prototype delivery in just six to eight weeks from the point of design approval.
During prototype manufacturing, parallel progress is made on submitting all necessary UL, FCC, and agency approval documents. This simultaneous activity enables UL certification to occur at the same time as prototype completion, accelerating time to market by as much as 12 – 16 weeks.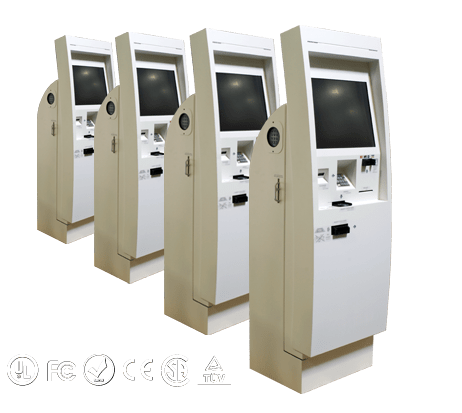 Installation & Deployment
Phase 6
Following prototype delivery, KIOSK has 115,000 square feet of dedicated manufacturing floor space capacity poised to facilitate the steepest of production ramps.
KIOSK's manufacturing model can accommodate a wide volume spectrum – from very small production runs up to thousands of units per week. Both ends of the volume continuum are treated with equal care and expert attention.
Turnkey site survey, site visit preparation, and installation services are readily available.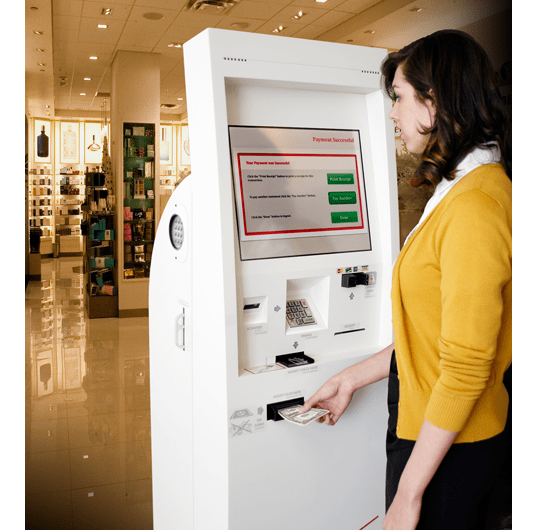 Custom Solution Experience
With over 25 years dedicated to customized design and integration, KIOSK has earned the reputation as The World's Leader in Custom Design. At KIOSK, steep customization is an ongoing daily demand. To accommodate this high demand, we've steadily expanded Technical Teams to surround every key project aspect with parallel development experts, greatly simplifying and accelerating our customer's path to market.
The unique appeal of working with KIOSK for kiosk designing is two-fold:
Agile and unrestrained solution design, completely eliminating "One Size Fits All" constraints.
"A-Game" Team Members orchestrating all project development tracks – with the unique benefit of being together under one roof:
Custom enclosure and software design
Expert integration and in-house manufacturing
Advanced Program Management over product life cycle
Remote Management and field support
For over 25 years, our capabilities have been exercised and proven across 17 vertical markets, building an unparalleled experience base for our customers to tap into.
While most clients have general kiosk design ideas and preferences, there is no need to know how to design a kiosk. As diverse kiosk makers for over 17 vertical markets, we will consult with you on how to build your own kiosk elements into a design that meets your aesthetic and functional needs. Further, we can recommend components and features that help you meet the intended custom kiosk price range for hardware and support services. In short, we'll make it easy for your company to hit your custom mark.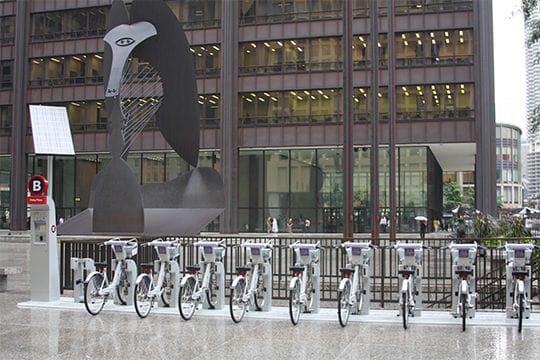 Frost & Sullivan's competitive analysis shows KIOSK is one of the few companies to offer a complete turnkey solution encompassing hardware and software custom design, turnkey preparation, installation and field services, and network maintenance over the life of the project.
Custom Gallery
Click to Enlarge or Learn More
Component Integration
KIOSK's dominant market share in custom design ties directly to our proven ability to integrate virtually any combination of the latest self-service component technology (indoor and outdoor).
We're the manufacturer for client solutions in multifunction financial services and airport security, commonly requiring integration of 15 – 20+ distinct peripherals. More typically, KIOSK serves clients needing a "somewhat custom" creative design, with just a few unique accessories or components economically integrated into a standard style kiosk.
Build your own kiosk with these commonly integrated components listed below. If you don't see it listed, just ask us.
Diverse Computing Options
Custom Controller Boards
LCDs – Virtually any size of digital signage, signs, or lighting
Card Readers – Swipe, Insert, Smart Card Readers (for secure payment kiosks)
Printers – Receipt, Ticket, Card, Laser, Photo
Biometric Identity Scanners – Thumbprint, 5 & 10 finger, Palm Vein, Iris Scanners (typically for security kiosk and check-in kiosk applications)
Bar Code Scanners – 1D, 2D, Custom
Currency Acceptors, Dispensers, Recyclers
Document scanners – Passports, Visas, Checks, etc.
Cameras – Identity Profile Capture, Web Cameras
Privacy & Security Components – Sensor Mats, Filters, Retractable Printers, Cash Box Safes, Locks / Alarms
Wireless – Wireless Broadband, Bluetooth / Infrared, RFID Contactless, Wi-Fi
Specialty Components – Solar Panels, Batteries, Parking Gates, Breathalyzers (typically deployed in outdoor kiosks)
Outdoor Kiosk Solutions
When deploying a fully outdoor kiosk, it's essential to start by leveraging the expertise of an experienced supplier. KIOSK has created hundreds of the industry's most widely recognized outdoor solutions for transportation and parking companies, theaters, amusement parks, stadiums and resorts. Disney, AMC Theaters, Ticketmaster & Tickets.com (Major League Baseball), and Regal Cinemas are among our many successful outdoor clients.
Special considerations to improve your design include:
Design for the Elements: Outdoor units are designed with watertight seams and insulated inner walls to protect internal components. KIOSK provides the appropriate NEMA rating (related to the severity of weather exposure); rugged outdoor component choices, HVAC / shelter recommendations, and UL testing.
Robust Materials: Using metal tests and historical data, KIOSK engineers have determined three metal treatment options, based on the customer's aesthetic, structural, and cost objectives. KIOSK recommends the best enclosure treatment and finish to meet maximum corrosion resistance based on placement intent (i.e. – fully exposed vs. in a shelter).
Geographic-specific Environmental Conditions: KIOSK's engineers factor in environmental challenges (natural sunlight, humidity & precipitation levels, temperature ranges, etc.) to optimize operation.
Heating and Cooling: Integrating the correct HVAC unit maintains optimal temperature and humidity levels for peak reliability of the full component mix.
Display Choice: Hi Brite LCDs eliminate "sunlight washout" for outdoor screen readability (touch screens available).
Solar Power Source: See KIOSK's Green Solutions Pages
Outdoor Installation: Expert, turnkey services address the extensive requirements that ensure seamless outdoor performance.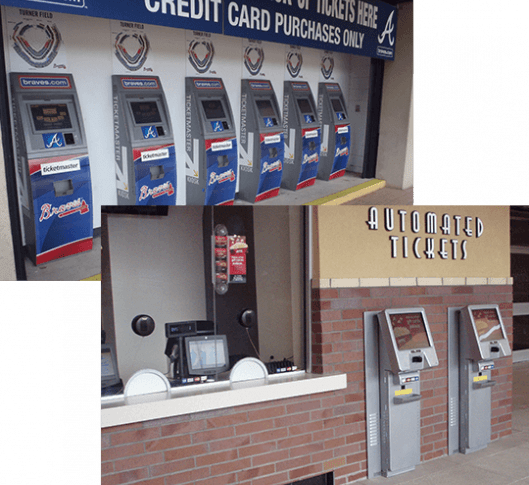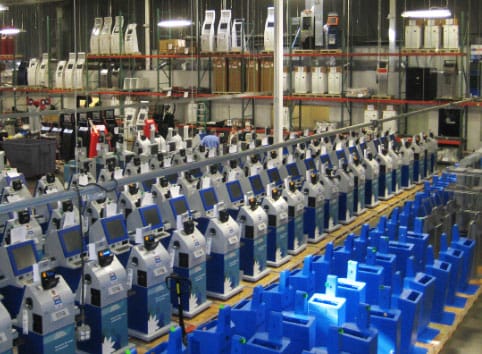 Custom OEM Services
KIOSK's proven experience in custom solution design and cost-effective hardware manufacturing has positioned us as the preferred OEM contractor for many of the top technology companies and brands entering the self-service arena. We realize that every kiosk project starts with prototyping and a series of small manufacturing runs – those small runs that most manufacturers would rather not take on.
KIOSK's specialized OEM services provide competitive and responsive manufacturing that caters to both ends of the volume spectrum on a daily basis.
OEM Solution Design and Manufacturing represents the lion's share of KIOSK's business and has led to a complete line of great turnkey project services – all in one location under one roof.
Please pick and choose just what you need from the OEM Services below:
Complete OEM Services:
Engineering Design (enclosures, custom controller boards)
Application Development
Contract Manufacturing
Remote Monitoring
Consulting & Program Management
Site Prep and Install
Integration & Testing
Field Service & Support
Give us a call at 888-661-1697, submit our form to contact sales, or view this quality content for more information on our products, systems, and services.