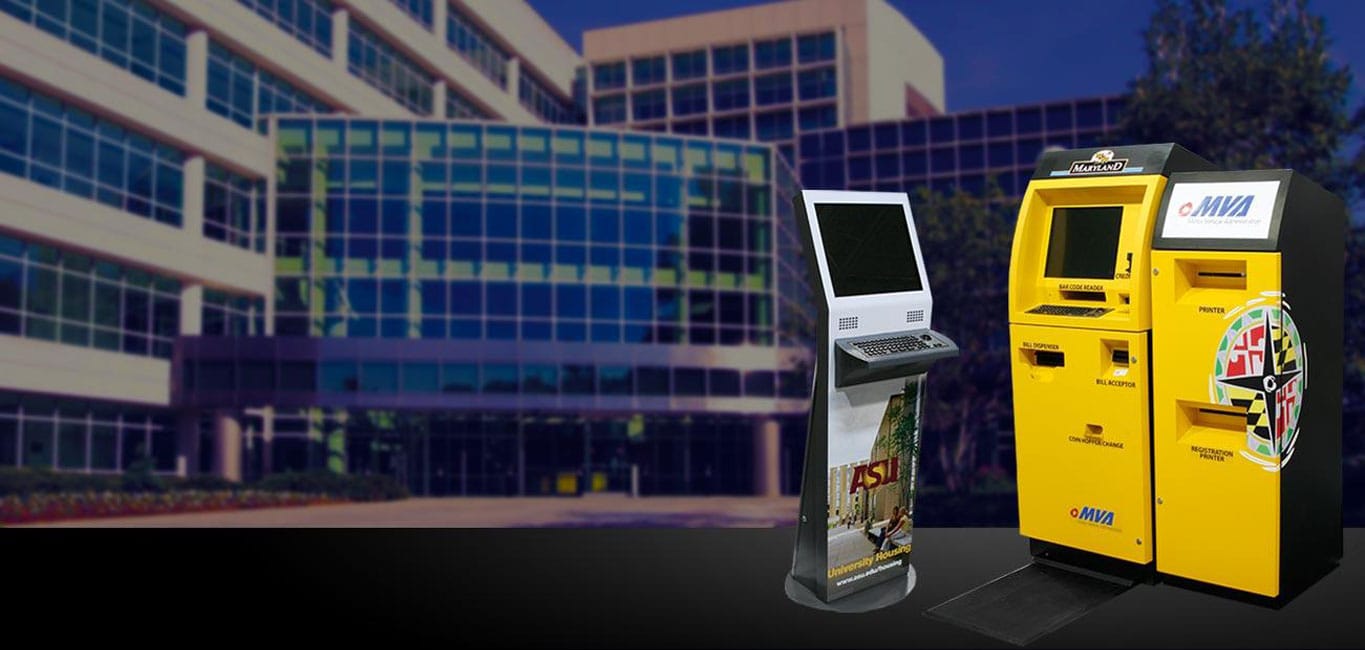 Government & Inmate Kiosk Systems
KIOSK Government Platforms include DMV Kiosks, University Kiosks & Correction Facility Kiosks
Inmate Kiosks
Inmate kiosk systems are a dominant niche solution at KIOSK Information Systems. As the provider for the vast majority of Corrections VARs, we have a deep deployment portfolio of solutions to manage inmate financial services, commissary purchases, fine payments, video visitation systems, and probation check-in kiosks.
Inmate Financial Services
Among the most widely deployed solutions is the Swanson's Cobra Cashier, installed in over 225 jails and prisons (coupled with over 600 inmate wall mount kiosks). This prison kiosk provides several key benefits to the Correction Institutions:
Automates secure banking transactions
Enables staffing to be re-assigned over time to enhance alternate facility functions
Increases revenue through commissary sales
Facilitates debt collection efforts
Inmate Video Visitation
With the obvious financial benefit of self-service inmate video visitation, they are quickly becoming commonplace within correction facilities. Visitation Systems are routinely incorporated in new facility designs to:
Cut Visitation facility staffing demands by reducing the movement of inmates and visitor traffic (visits can originate onsite / remote center / home)
Provide a potential revenue generating platform
Reduce construction and operations costs
Allow offender connect kiosks to give inmates increased visits without increasing overhead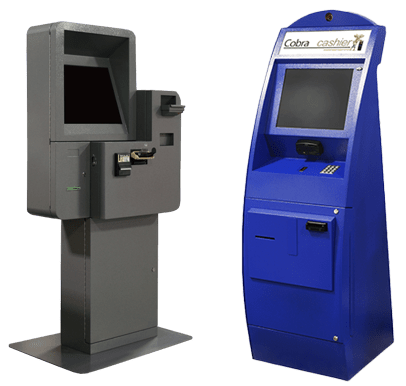 Contact Us For More Details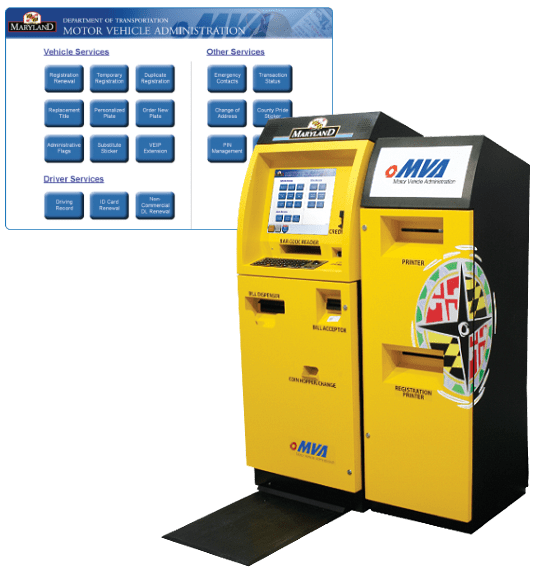 Department of Motor Vehicles Kiosk
With successful deployments in Maryland, Washington and Utah, KIOSK's custom solutions are used to automate virtually any Department of Motor Vehicle (DMV) transaction need. Self-service transactions can dramatically reduce both staffing costs and customer wait times (very key metrics to any DMV).
KIOSK offers a full complement of standard and custom platforms with varied functionality. ARINC's custom KIOSK solution offers turnkey applications for complete automation (kiosk, web, and mobile), with the following features:
Vehicle registration renewal
Temporary registration
New and personalized license plate orders
Replacements titles and registrations
Citation payments
Platforms can accept both card and cash payments, providing services to both banked and cash-preferred residents (multilingual interface and change return options).
Flexible payment / ownership options improve access for any DMV to realize the bottom line cost savings benefit of a motor vehicle kiosk strategy. Managed Fee for Service arrangements can facilitate automation by virtually eliminating up-front investment.
Government Gallery
Click to Enlarge or Learn More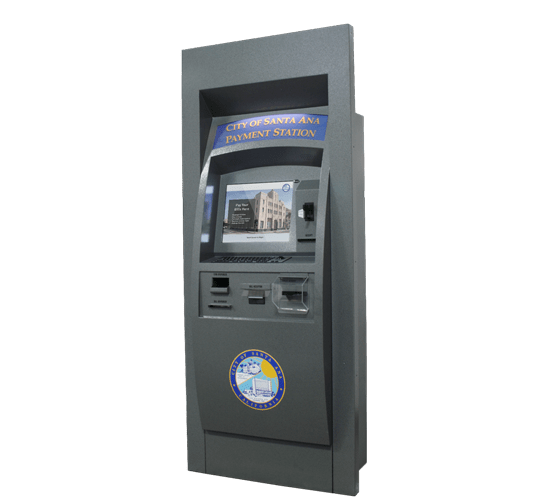 Local Government Kiosk
KIOSK has worked with multiple city / municipal offices providing turnkey self-service kiosk platforms that automate self-service bill payment transactions. Applications with flexible payment options – including cash – coupled with multiple language capability, expand the convenience of kiosks to a wider range of banked and unbanked customers. Users can easily pay routine bills conveniently and quickly using the self-serve option, reducing customer wait times and improving staff efficiencies. Multi-biller options are included in the solution, accelerating ROI.
Click here for complete information on KIOSK bill payment software and payment kiosks.
Other Local Government Solutions Include
Library Automation
Tourism Information
State Registrar Self-Service
Court Scheduling Automation
Local Licensing Services (pets, hunting, permits, etc.)
KIOSK has literally hundreds of State and Local Government solutions deployed. Contact us to discuss your specific application needs.
University Kiosk
KIOSK clients in the education market range from large universities like Princeton, Vanderbilt, and University of Michigan to a host of private and community colleges. Universities everywhere are realizing the cost savings benefits of kiosks for:
Automated registration
Financial aid information
Course catalogs
Directories & wayfinding
Academic & athletic event calendars
Student ID validation
University clients have great opportunities for layering web-based applications which can significantly relieve staffing budgets and assist with campus flow during spiked demand cycles (registration, parent weekends, athletic events, etc.).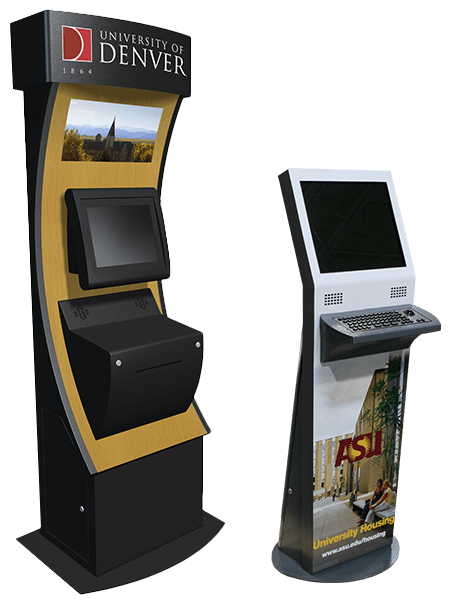 GSA Kiosk
While KIOSK has directly provided many self-service solutions for Federal Government branches, including large deployments with the United States Postal Service and The Department of Homeland Security, there are specific Federal projects that fall within GSA Schedule requirements.
KIOSK's long-term preferred solution partner for GSA clients is DynaTouch Informed Technologies. With more than 500 successful projects and kiosk systems at nearly 75% of all U.S. military installations worldwide, DynaTouch has long been the leading supplier of point-of-information kiosks to the Department of Defense.
Their TIPS kiosks and software solution packages satisfy a wide spectrum of information distribution applications for government, commercial and medical customers.