Bitcoin ATM Solutions Overview
With the surge in interest and adoption of bitcoin, the demand for purpose-driven ATMs has also spiked. Traditionally built overseas, Operators are now looking for modernized equipment sourced in the US to improve lead times and deploy more efficiently. KIOSK has created standard models for purchase only, or bitcoin purchase and cash redemption. Industry feedback is that KIOSK has provided an ATM series that combines the right aesthetics, price, lead time, and ease of integration. Further, KIOSK is offering lease to own financing options to amortize the investment over three to five years.
Kiosk Bitcoin ATM Brochure
Attributes of Bitcoin ATM Kiosks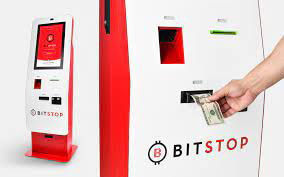 Value Drivers
Although cryptocurrency can be bought and sold via an online exchange, it can take three days or more for transactions to settle. In the case of a sale, that means you may not have access to your funds as needed. A Bitcoin ATM allows for instant settlement. In the case of a purchase, transactions are credited to your wallet immediately. In the case of a sale, you'll have cash in hand immediately.
For cryptocurrency users, Bitcoin ATMs offer:
Easy purchases
Instant conversion to cash
Increased user satisfaction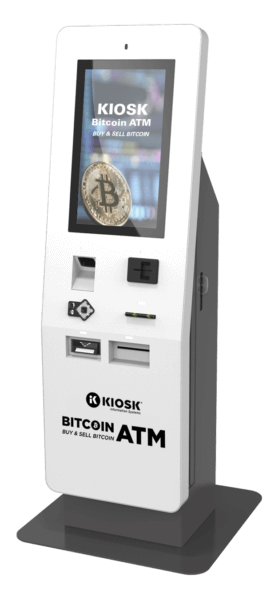 Product Features
KIOSK has developed a set of standard bitcoin kiosk models, with over 1000 units deployed to date. Operators and ISVs utilize KIOSK's Hardware Integration Module to facilitate seamless software integration and secure operation. Internal components are fully secured with hardened exterior door locks. The cash vault is contained within a separate locked vault, isolating cash components from the rest of the serviceable transaction devices.
The Bitcoin ATM Series includes the following transaction components:
21.5" PCAP touch display
QR code scanner for bitcoin wallet transfers
Card reader for credit/debit to bitcoin purchases
Bill acceptor for cash to bitcoin purchases
Bill dispenser for bitcoin to cash conversion
Printer for transaction receipts
Navigation pad to ensure ADA accessibility
Download Bitcoin Brochure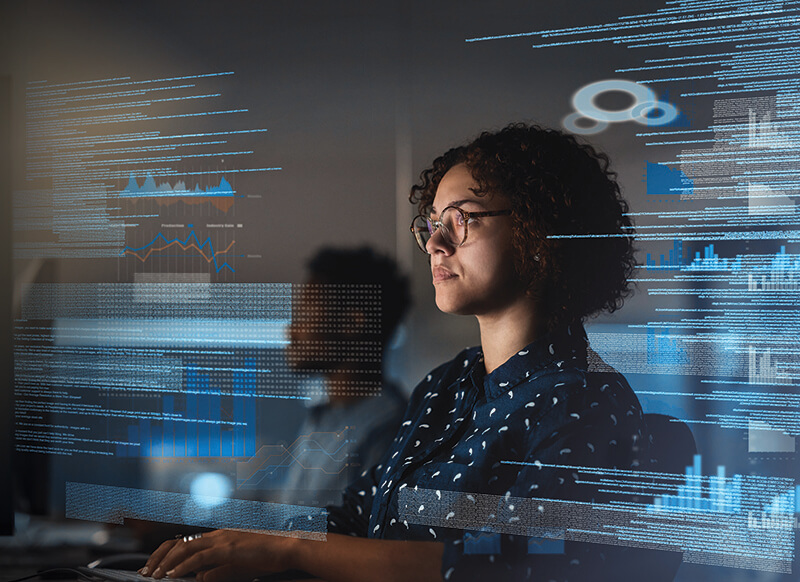 Application Integration Resources
To provide developers quick integration of software with hardware and reduced time to market, KIOSK offers a licensable Hardware Integration API library with an easy-to-use, well-defined abstraction layer development asset. This proprietary and licensable tool is referred to as the KNECT Hardware Integration Module (HIM). The HIM license accelerates interoperability and application development via a simplified higher-level abstraction layer.
Application integration resources enable businesses with:
Barcode Scanners
Credit Card Readers
Thermal/Laser Printers
Cash Acceptors
Cash/Coin Dispensers
Proximity Sensors
Document/ID Scanners
Ticketing Printers
Leverage Kiosk's application integration solutions and gain access to a growing library of APIs –supporting over 40 kiosk components. Eliminate the need to manage and maintain individual component drivers and SDKs, so you can streamline development efforts and time to market. Further simplify development with a comprehensive hardware integration component test suite with easy-to-understand code examples for ultimate efficiency. Plus, you can access technical API documentation that provides turnkey code, methods, and best practices used to gain component functionality insights.
KNECT Hardware Integration Module Brochure
Market Applications
Solutions for any industry
No matter the market, Kiosk applications enables digital transformation through automation platforms that are easy to use, adaptable and supported by end-to-end Managed Services using IoT real-time monitoring. Whether you need a solution for self check-in, automated returns, video conferencing or ticketing, KIOSK has a solution that transforms the customer experience.
View all Applications