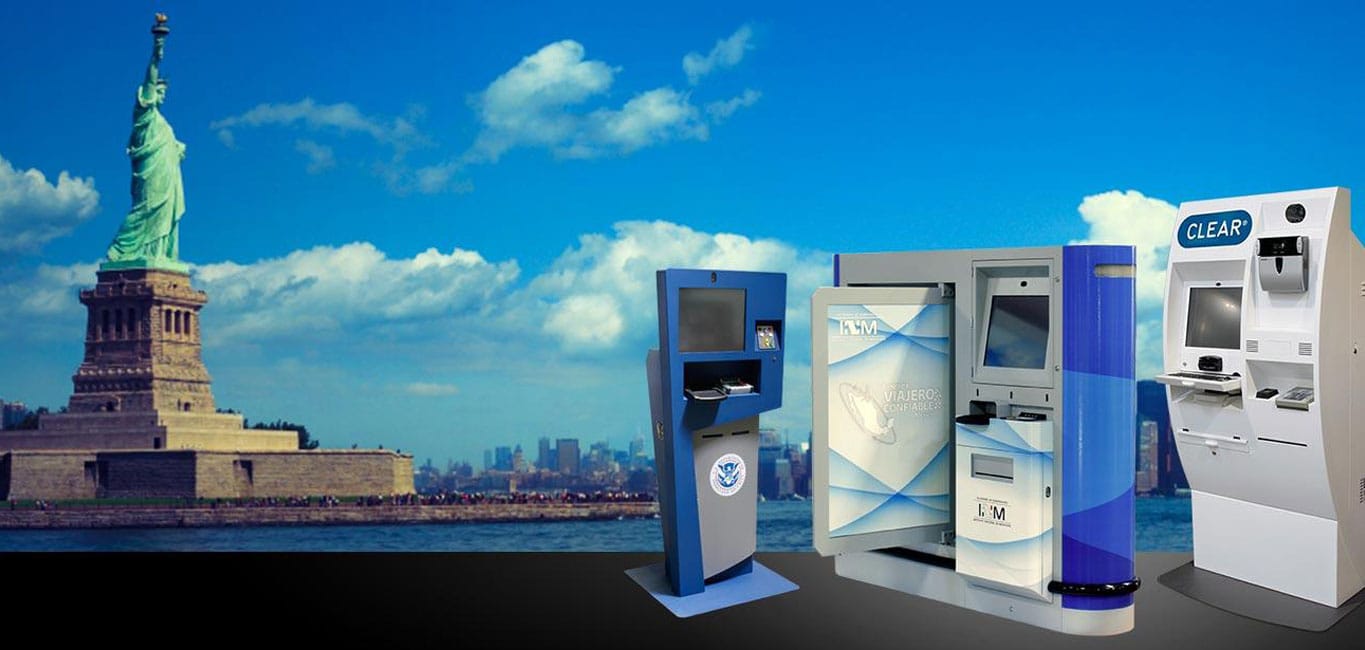 Airport Security Kiosks
World Leader in Automated Border Control (ABC) & Custom Security Automation Solutions
Security Experience
Since 9-11-01, KIOSK has played an integral role in automated security and immigration control solutions found in hundreds of United States and International airports. KIOSK has set new standards in sophisticated screening and document capture device integration. These types of devices help governments dramatically cut costs while still meeting several mandated security standards. KIOSK's deployed solutions include Registered Traveler enrollment and screening programs and border security automation for the United States and Mexican customs gates. Some of our leading security solutions with exceptionally demanding design requirements include:
CSRA / Northrup Grumman (Department of Homeland Security / TSA)
Alutiiq / Citi / Inaami (Mexico's National Immigration Institute)
Unisys
CLEAR Registered Traveler, L1 / Verified Identity
BAE (TSA)
ARINC
SITA
Contact a KIOSK Representative for more information on our world-class security kiosk solutions today.
CSRA / Northrup Grumman (Department of Homeland Security / TSA). The Trusted Traveler program is deployed in 59 International Airports around the globe, clearing passengers in an average of 40 seconds. This self-service platform cuts 32 minutes of passenger wait time (vs. historical methods). With the Trusted Traveler program:
There are no processing lines
No paperwork
Access to expedited entry benefits in other countries
Reduced wait times
Alutiiq / Citi / Inaami (Mexico's National Immigration Institute). The eGater Biometric Border Control Solution (BBCS) platform is similar in purpose to the US Trusted Traveler program, enabling passengers an expedited customs experience. It streamlines a traveler's entrance and verification with self-service immigration processing that offers mutual benefits, such as lower wait times and minimal interaction with Immigration and Customs authorities. This biometric solution offers the Government or Agency a secure and reliable method for validating the traveler's identity and documentation, while improving the traveler's overall airport experience. KIOSK provided Enrollment kiosks for agents to interactively enroll travelers in their border crossing system. Verification and migratory kiosks were provided for post-enrollment processing for repeat travelers. The E-gate passage kiosks provide secure gate entry.Components of the solution include: BIOMETRIC SOFTWARE: Based on industry standards (ANSI/NIST, ISO, ICAO, GXJDM/NIEM) that support different databases (e.g., MSSQL, Oracle, DB2, etc.)

BIOMETRIC HARDWARE: Customized kiosks for border and biometric control and management, separated into different types: Enrollment, Verification/eGate, Production, etc. May include biometric smartcards and printed forms (Immigration and/or Customs).

DATA SYNCHRONIZATION: Easily synchronizes biometric and biographic data (on and off-line), with high reliability and performance.

STOCK MANAGER AND REPORTS: System that includes management and tracking of biometric cards consumables. Also allows the visualization of information reports.

INFORMATION EXCHANGE: System capable of exchanging information between different agencies (based on industry standards).

Unisys – The U.S. Department of Homeland Security Customs and Border Protection implemented a solution to increase pedestrian traffic speed across the U.S. / Mexico border. Unisys and KIOSK Information Systems developed and installed 134 kiosks at 22 border locations.
Creating multi-generation solutions with these expert Government partners has positioned KIOSK as a leader in OEM Airport Security solutions. Clients with new custom platform requirements leverage this experience to substantially reduce both development costs and time to market. As self-service solutions become widely used in the security industry, it's important to work with a company that has years of experience with these complex designs. Scroll down to view our security solution galleries and access our brochures and videos.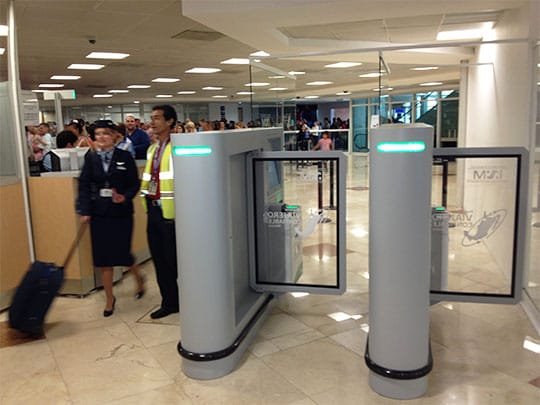 CONTACT US FOR MORE DETAILS
Security Gallery
Click to Enlarge or Learn More
Security Component Integration
KIOSK security solutions typically require a deep list of specialized components to efficiently address complete data capture, accurate identity verification, and security records necessary for a stand-alone solution. In the design process, clients are usually considering the following component categories:
Biometric Peripherals
Document and Image Capture Peripherals
EZ Access Peripherals
KIOSK Representatives are available for consultations and to provide you with a quote on your integration needs.
Biometric Peripherals
As technology evolves and new biometric identification methods emerge, Solution Engineering Team is in place to evaluate and recommend appropriate component options. When considering biometric peripherals, ways to automate the process of personal identification authentication can include:
Iris scanners
Single and 10-print fingerprint scanners
Fujitsu PalmSecure™ palm vein scanners
Document And Image Capture Peripherals
To meet the high-volume processing demand required in airport security solutions, KIOSK carefully recommends only the most reliable processing components. KIOSK integrates highly reliable components, to enable our clients to meet the rigorous records management involved in border security solutions.
Lighted web cameras for facial recognition records
Signature capture devices
Barcode scanners
Document image scanners for visa, passport, and I-94 customs declaration forms
EZ Access Peripherals
KIOSK has always focused on making sure our airport travel and federal solutions can serve all passengers, including those with disabilities. We ensure all of our kiosks meet current ADA standards. Further, our platforms accommodate the needs of vision and hearing-impaired passengers. Commonly included components / features:
Braille identification on enclosure to identify and name components
Headphone jacks, telephone handsets. Headphone jacks can be included in the EZ Access navigation pads
EZ Access navigation pads provide a highly tactile interface that improves accessibility, making audio navigation and selection of screen-based menus possible. These pads are paired with a compliant host application featuring synthesized or recorded human voice audio-tags.