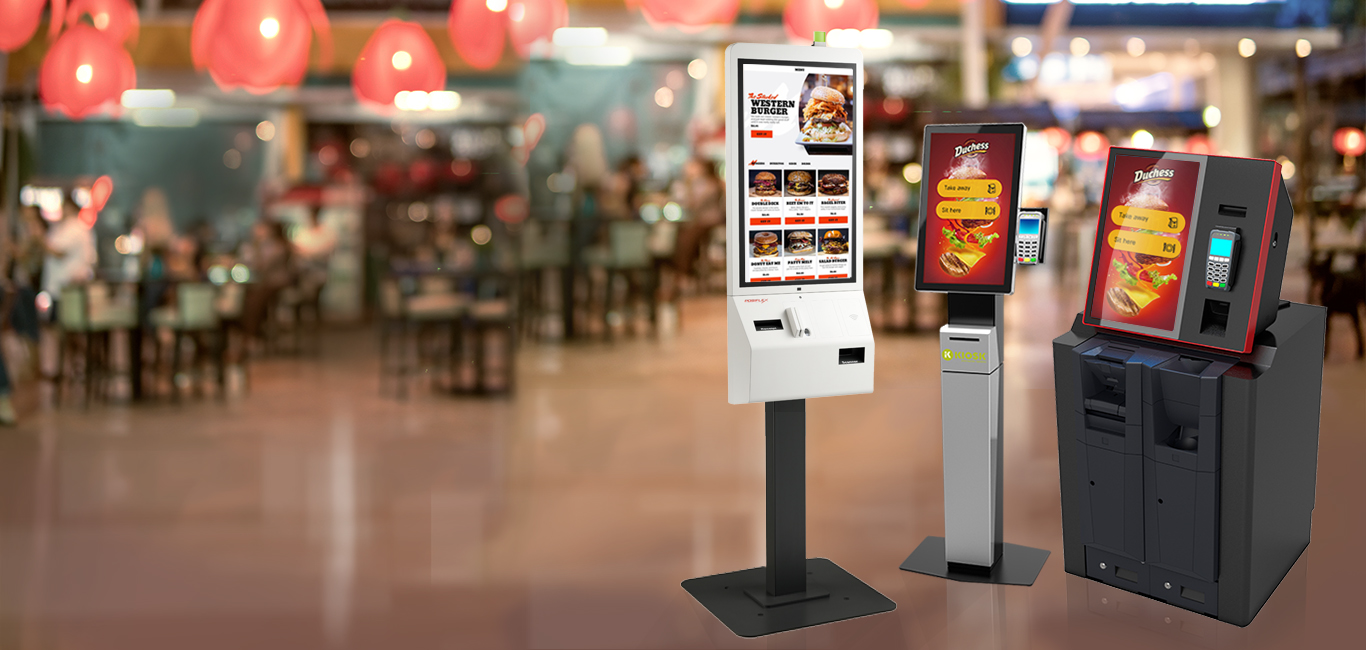 Cash and Coin Automation
Restaurant self-order solutions to drive efficiency and profitability
Overview
The Complete Payment Solution for Order Entry
By now, there are ample success stories with major QSR and fast casual restaurant chains who have proven the strong business benefits of leveraging self-service kiosks as a central part of their overall automated restaurant ordering systems to improve efficiency while enhancing the customer experience. Restaurant kiosk ordering interfaces are designed to facilitate up-sell and transform repetitive order processes into a seamless and more profitable flow. Benefits include:
Consistent presentation of sales, promotions, and up-sell prompts combine to increase order value (on average 20 – 30%).
Labor and transaction cost savings are realized through customer-driven sales transactions.
Restaurant team member contributions are being re-focused into other phases of guest services; including more team members on kichen throughput, drive thru, and table delivery of initial orders and drink refills.
Card-based Payment Restaurant Kiosk
KIOSK offers several QSR and restaurant kiosk options with card-only payment components including:
APEX Standard Kiosk Model with 19" or 21.5" LCD; pedestal or countertop (shown left)
The Paragon Standard KIOSK Model with 32" LCD; single or dual pedestal, and wall mount (shown right)
Both are available in Windows 10 or Android 7.1.
APEX is a modular standard kiosk design series providing off-the-shelf enclosures that can accommodate a wide array of configurations. This design features a VESA mount LCD that can be configured for a 19-inch or 21.5-inch LCD mounted in portrait or landscape presentation. Enclosure base options include a full-height pedestal for free-standing deployment, or a smaller base option for compact countertop installation needs.
The Apex combines a brilliant Projective Capacitive (PCAP) touch display paired with a flush-mounted PC, providing all-in-one space efficiency. The zero-bezel flush face and minimalist lines complement any retail or hospitality setting. Apex transaction component options include a side-mounted payment device (multiple), a receipt printer, and a 1D / 2D barcode scanner. All models are ADA Compliant.
The Paragon Series is a new and contemporary interactive kiosk well suited for quick service and fast casual restaurants, as well as retail stores. It serves as a natural extension of existing POS terminals, helping to drive sales and accelerate customer flow at peak times.
Designed with both functionality and aesthetics in mind, the Paragon TK-3200 Series features a bright, high definition 32" PCAP touch screen and sleek, durable enclosure, providing a contemporary and sophisticated user interface.
The Paragon is a modular design that can house a variety of payment device options. Modular design makes installation, maintenance and component replacement easy and convenient.
Contact Us For More Details
Order Entry with Cash and Coin Automation
In a recent restaurant Bloomberg article, John Gordon, Principal at restaurant adviser Pacific Management Consulting Group notes that cities and states are starting to prohibit cashless stores. In the past year, New York, New Jersey, Philadelphia, and San Francisco have passed legislation banning businesses from rejecting cash.
Legislation aside, providing cash-preferred customers with the same self-service benefits of order personalization and faster checkout is simply a more inclusive model. Further, the same exact benefits tied to card-based self-ordering absolutely apply to cash-based ordering, with the added benefit of no transaction fees.
Consistent presentation of sales, promotions, and up-sell prompts combine to increase order value (on average 20 – 30%).
Reduced labor and transaction costs realized through customer-driven sales transactions.
Re-focusing restaurant team member contributions into other phases of guest services; including more team members on kitchen throughput, drive thru, etc.
KIOSK released a new version of The Avant Series kiosk with cash / coin components, combining cash payment with secure EMV card payment options.  The base of this kiosk houses a cash recycler (cash in and out) and smart coin dispenser (coin out) for fast, reliable, and highly accurate management of cash transactions.  Coin self- serve kiosk demand in the US is simply for change dispensing, meaning that a consumer would round up the bills needed to cover the transaction, and the kiosk dispenses the appropriate change from the transaction (US industry standard).
Order Entry Gallery
Click to Enlarge or Learn More