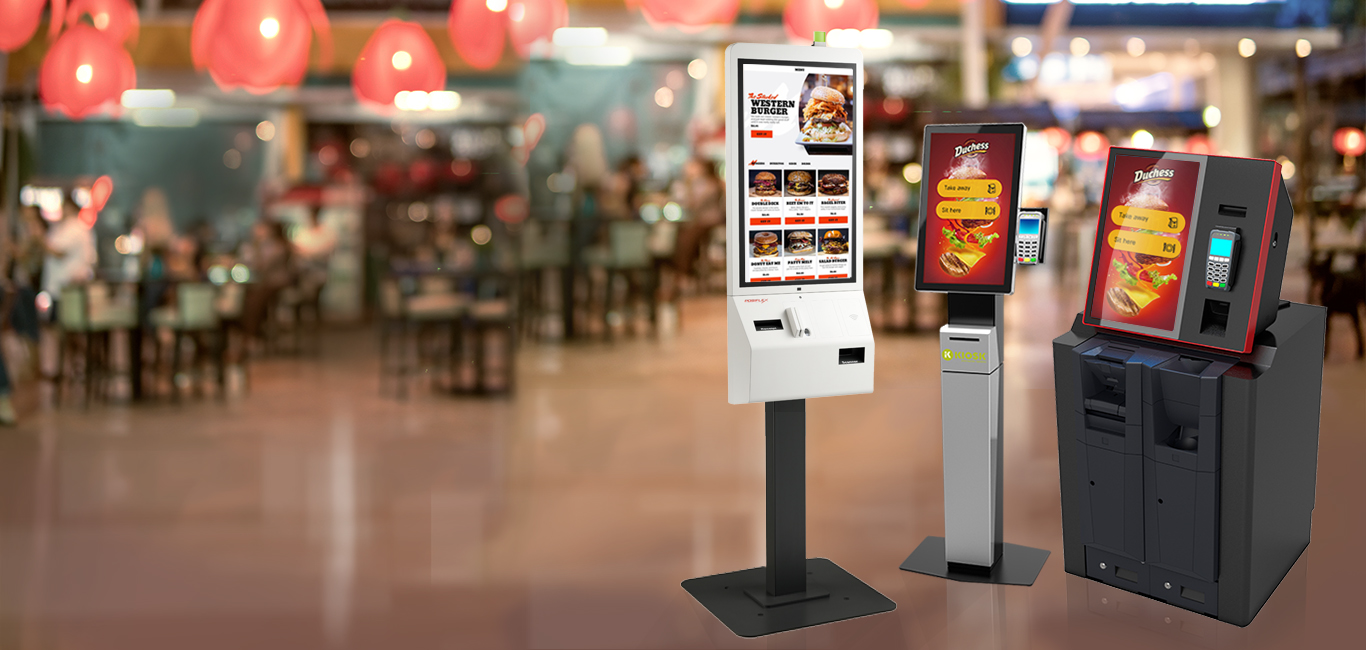 The Automated Cash Order Entry Solution
Restaurant kiosk solutions to drive efficiency and profitability
Overview
The Complete Payment Solution for Order Entry
By now, there are ample success stories with major QSR and fast casual restaurant chains who have proven the strong business benefits of leveraging self-service kiosks as a central part of their overall automated restaurant ordering systems to improve efficiency while enhancing the customer experience. Restaurant kiosk ordering interfaces are designed to facilitate upsell and transform repetitive order processes into a seamless and more profitable flow. Benefits include:
Consistent presentation of sales, promotions, and up-sell prompts combine to increase order value (on average 20 – 30%).
Labor and transaction cost savings are realized through customer-driven sales transactions.
Restaurant team member contributions are being re-focused into other phases of guest services; including more team members on kichen throughput, drive thru, and table delivery of initial orders and drink refills.
To date, the industry has primarily focused on successfully automating card-based payments.  However, automated cash now enters the overall solution picture.  A recent Bloomberg Article highlights the flaw in not factoring a cash and coin automation payment path for consumers.  About 6.5% (or 8.4 million) of U.S. households don't have a bank account or a debit or credit card, preventing them from paying at a kiosk and skipping the line.  McDonalds sites 30% of US fast-food consumers use cash, and that statistic jumps to 40 – 60% worldwide.
KIOSK has a long history providing secure automated cash technologies in the retail bill payment space, with nationwide cash kiosk deployments that process literally billions of dollars each year.  Because of the added cost of componentry tied to cash and coin kiosks, a pragmatic self-service approach is to provide a mix of lesser priced card-based kiosks with one or more cash kiosks as an additional ordering lane.
Card-based Payment Restaurant Kiosk
KIOSK offers several QSR and restaurant kiosk options with card-only payment components including:
APEX Standard Kiosk Model with 19" or 21.5" LCD; pedestal or countertop (shown left)
The Paragon Standard KIOSK Model with 32" LCD; single or dual pedestal, and wall mount (shown right)
Retailers want to be able to to streamline and add efficiency to save on operational costs, but also, to capture rich data from transactional activity, allowing store managers and operators to take a deep look into what customers do and why. KIOSK's standard models deliver that complete product offering. In addition to that, our project management and services team deliver best in class installation and managed services for ongoing service and support throughout the life of your machine.
5 Ways to Improve the Retail Checkout Experience
Kiosks make it easy to open up new registers when the lines get too long.
Improve the customer experience with the digital interaction consumers are used to.
Use integrated payments.
Enable mobile and contactless payments.
Accept cash transactions.
Integrate on screen personalized up-sells and demographic profiling using machine learning.
Consider in-app checkout.
KIOSK Information Systems has been in business for 27 years, building on top of expertise gained from hundreds of installations. Find out how it's industry expertise combined with its small size and agility, make KIOSK the trusted choice for retail and QSR kiosk solutions. Speed to market is critical and being able to answer that at scale is how KIOSK keeps prices low and offers the best in class service to enable customers success and ensure a seamless deployment.
The Avant Ticketing Model is a new interactive ticketing kiosk built for quick service and automated cash & coin transactions, as well as ticketing and self-checkin. It is an all-in-one solution helping to speed up the pace of transactions and therefore drive sales and accelerate customer flow at peak times.
Designed with both functionality and aesthetics in mind, the Paragon TK-3200 Series features a bright, high definition 32" PCAP touch screen and sleek, durable enclosure, providing a contemporary and sophisticated user interface. This large format is quite popular for restaurant touch screen ordering systems. The Paragon is a modular design that can house a variety of payment device options. Modular design makes installation, maintenance and component replacement easy and convenient.
Most of the highly reliable components in the Paragon are produced by KIOSK's parent company, Posiflex, in Taiwan. Posiflex components are known for long life-cycles and high reliability, reducing service costs over the life of the deployment. The Paragon series is designed by KIOSK in the US and manufactured in Taiwan. Inventory stocking and final configuration are performed in the US for fastest lead time. The unique supply chain leverage in place for this series enables us to provide exceptional quality at a very attractive price.
The Stellar Model is KIOSK's countertop offering for self-service ordering. This model features a 21" PCAP display for a more compact form factor, with configure-to-order payment device options. Both the Paragon and Stellar models are designed by KIOSK and manufactured in bulk from Taiwan, for attractive lead-time and price point efficiency.
Because labor and manufacturing costs are much less expensive in Asia (vs. U. or Europe), we are building both Stellar and Paragon in Taiwan to leverage volume build efficiency and achieve the best possible price in each global region of distribution. Both Paragon and Stellar units will be stocked in regional facilities globally for final configure-to-order finish work, where customers can define their preferred payment components and optional add-ons. By stocking these base configurations, KIOSK and Posiflex can provide best-in-class lead times to global distribution channels.
Both the Paragon and Stellar hospitality models are modular and can be broken down for shipping. This design element enables us to ship the kiosks in boxes on a pallet for final assembly at location, which is much more cost effective than shipping fully assembled. Because far more can fit in an overseas shipping container, this eliminates overseas shipping costs as a price barrier. Regionalized final configuration is initially available in the US, Europe, and Taiwan.
Contact us for more information on order entry kiosk solutions.
Contact Us For More Details
POS Touch Screen Terminals and Tablets
Since the Posiflex acquisition of KIOSK in 2016, the ties between the two companies have grown, and so have our product lines. As industry leaders in both point-of-sale and self-service platforms, we are expanding and cross-pollinating solution offerings, bringing added value to retailers and greater execution caliber.
Posiflex touch screen terminals can run virtually any Windows application to fit the transaction needs of any retailer or restaurant operator. The product line provides value, mid-range, and maximum performance models with comprehensive feature options to achieve the ideal price / performance / power combination.
The links here will direct you to Posiflex's website and sales team for expert advice on the POS line.
Order Entry Gallery
Click to Enlarge or Learn More