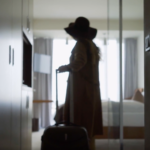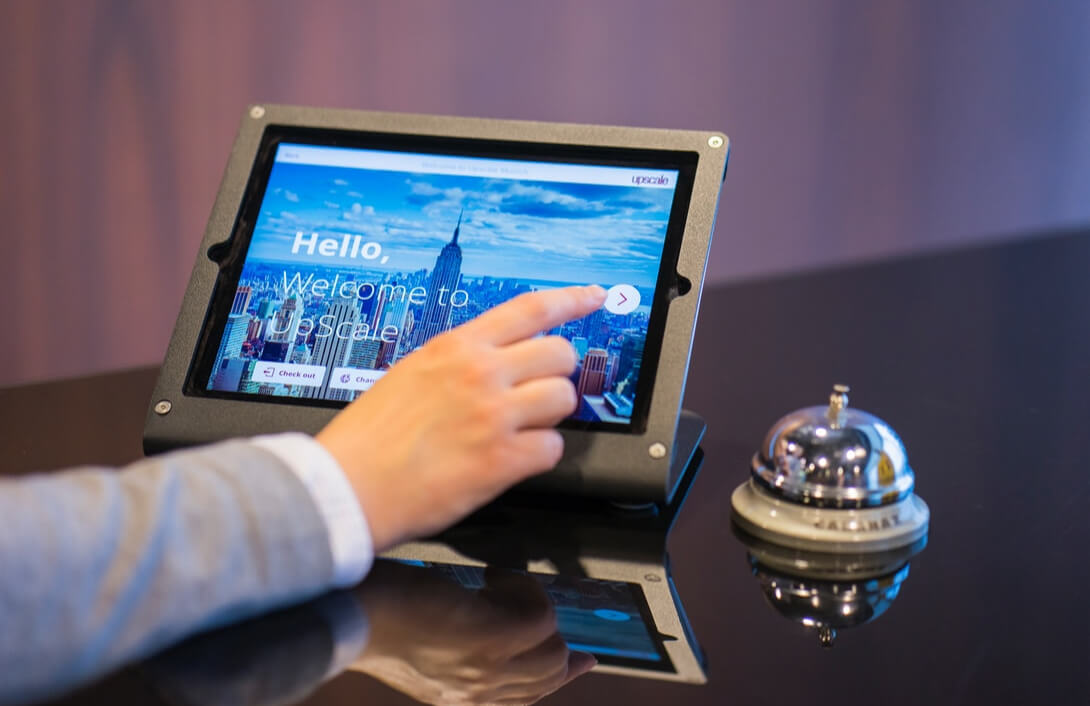 Hospitality Kiosks Overview
With labor shortages becoming more common, the need to automate processes in the hospitality industry with self check-in is becoming a crucial component to the continuity of operations. KIOSK has helped restaurants and hotels fulfill this need for automation while enhancing the customer experience with hotel check-in kiosks and order entry kiosks. Hotels with self check-in and restaurants that offer order entry kiosks improve guest experience by reducing wait times and allowing staff to focus on guest experience.  

Hotel Self Check-In
Technology to Automate Guest Services
The US is suffering from a substantial labor shortage, and the hotel industry has been hit particularly hard. The Bureau of Labor Statistics states that this sector has about 300,000 fewer workers than pre-pandemic.
By implementing self check-in, hotels can provide necessary guest services regardless of staffing challenges. Even at a fully staffed hotel, guests may experience frustratingly long wait times at peak check-in and check-out hours. Kiosks give guests the option for quick and contactless hotel check-in and reduce wait times for guests who prefer to check in with a hotel-desk agent.
In addition to self check in, hotel kiosks can offer concierge services such as special event registration and ticketing.
The hotel check-in kiosk system offers a fully customizable user interface. Background, logos, and colors can be customized to match the hotel's requirements for branding and experience.
Self-Service Technologies to Enhance the Hotel Guest Experience
When arriving at a hotel, the check-in process is essential to a guest's first impression and can set the tone for their overall experience. KIOSK Information Systems, in partnership with a leading hospitality industry software partner, is introducing a modern and intuitive hotel check in kiosk to automate guests' self check-in and check-out process. It provides guests with a streamlined self-service option, while reducing critical staffing gaps for hotel operators.
The Guest Services hotel kiosk can fully integrate with a property's PMS system enabling hotel operators to easily enhance their omnichannel guest experience with on-premise self-service capability. As part of this integration, automated identity verification, payment acceptance, and loyalty program lookup are among the available features that operators can provide for optimal front desk amenities paired with greater operational efficiency.
As each traveler has navigated their trip to the hotel, they have likely interacted with multiple self-service platforms along the way (ATM, airline check-in, restaurant ordering, car rental, etc.), so hotels with self check in are easily adopted by guests.
Self-service has become an integral mainstay in travel and hospitality services. Hotel check-in kiosk systems are a natural extension in this overall trend, providing the means for guests to drive their own best experience.
How Do Guests Use a Kiosk Check-in System?
An Intuitive, easy-to-use automated interface that walks the guest through the check-in / check out process
Supports loyalty programs through PMS
Guest can choose preferred language for easy instruction
Identification authentication and verification through AI and Passport/ID scanner for added security
Accept Credit Card payments, including modern payment methods with integrated payment terminal
Guest receives room number and encoded key card
Seamlessly checks guest out, providing the guest with a detailed bill through print, email or SMS
View Guest Services Brochure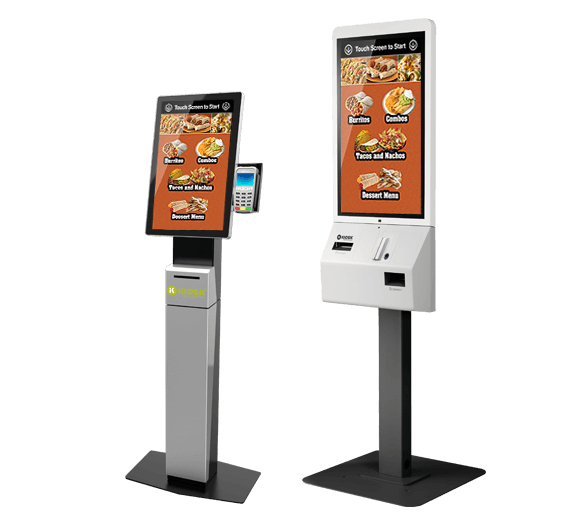 Restaurant Order Entry
Restaurant Kiosk Solutions to Drive Efficiency and Profitability
Government data and business-owner polls suggest that the restaurant industry is being hardest hit by the labor shortage. In a recent poll by Alignable of small and medium-sized business owners, 85% of restaurant owners said it was "very difficult" to find staff. Only 3% said they weren't struggling to hire (Business Insider).
Leveraging technology to automate self-ordering is a mainstream solution to maintaining optimized guest service levels.
Restaurant self-service kiosks reduce the repetitive order taking process for restaurant staff and consistently suggest add-on items that boost average transaction. With self-ordering kiosks in place, employees are able to focus on providing an excellent customer experience in other aspects of the restaurant. QSR kiosks reduce wait times to order at counter service restaurants, so guests can spend more of their visit relaxing and less time in line.  
When using a self-service kiosk, restaurant guests can fully control and customize their meal, reducing entry errors and food waste. Some restaurant chains have reported sales uplifts of 20% or more after implementing order entry kiosks.  
Order Entry Kiosks
Hospitality Kiosk Downloads
Hotel Check In Kiosk Features
Automate the guest check-in process with a self check-in hotel kiosk. The Guest Services kiosk handles the day-to-day check-in process so human staff are free to give guests a more personalized welcome. Automated processes are becoming an integral part of travel, and guests expect a contactless check-in hotel experience as well.
Confirm Guest Reservations With Mobile Pre-Check In
The Guest Services kiosk's check-in software offers a new feature that allows customers to check in on their mobile device before arriving at the hotel.
An email is sent to the guest one to two days before their booking is due to start. The guest can scan their ID and confirm reservation details while traveling, and collect a room key card when they arrive at the hotel.
Upgrade Rooms
The Guest Services hotel self check-in kiosk processes guest loyalty accounts, and allows guests to upgrade their room.
Should a guest change their decision or upgrade to a superior room, the terminal will account for this and make the necessary changes without the input of a human front desk agent.
Collect Payment
Smart check-in kiosks can process guest payments upon check-out. Guests can pay with the credit card they used to book the room, or switch to a different card to make their payment. Folio and check-out information can be printed or emailed to customers after their stay.
Document Scanning
If identification documents such as a driver's license or passport are required for hotel check-in, guests can use the check-in kiosk to scan their documents, just like at airport check-in.
Document scanning is fully secure and protects guests from identity theft. Copies are automatically created and inputted into the system, so guest information is accurate and can be reviewed by management later.
Issue Room Keys
The guest services kiosk makes each hotel stay effortless by encoding and issuing room keys to guests. It integrates with major property management and door lock systems, making implementation fast and easy.
If a room key becomes demagnetized or a guest misplaces their key, the guest services kiosk can be used to replace room keys on demand.
Benefits of Self Check-in at Hotels
Why should hotel operators consider a self check-in hotel option for their guests?
There are countless benefits in terms of productivity, efficiency, and the overall guest experience. Enjoy immediate advantages with the future of the hotel welcome experience through the ultimate self check-in solution.
Reduce Errors
Eliminate human error from manual booking systems. Self check-in hotel kiosks guarantee that the information input into the system is exactly what the customer provided. Prevent tired receptionists from entering incorrect names, addresses, and numbers.
Accurately Collect Information
Make your hotel a data-driven business by collecting accurate information for use later. Analyzing customer information enables hotels to improve the way they do business.
Accurate data guarantees superior marketing campaigns and targeted, tailored experiences for short-term and long-term guests.
Free Up Staff for Other Tasks
Maximize the potential of a workforce by freeing up staff for other tasks. Reduce the amount of required staff to keep a hotel running with a self check-in hotel terminal alleviates staffing shortages and keeps the check-in process efficient.
Staff can be redeployed to enhance the guest experience further by offering more personalized service.
Streamline the Check-In Process
Incoming guests should never have to spend minutes standing in line when they are exhausted from a long journey.
Streamline the check-in process by enabling immediate check-in without the wait. Self check-in hotel kiosks are the fastest way to get guests from the lobby to their rooms, and on to enjoying their destination.
Improve Staff Interaction
Liberate staff from the standardization of the front desk and redirect them to a more welcoming role.
Ensuring staff are not writing down guest information means they have more time to enjoy personalized conversations with guests. Staff is free to create a warmer experience that will translate to better reviews.
Why KIOSK?
KIOSK is the pioneer of 25 years of self-service automation. Whether you want a simple terminal for guests to enter their information or to upsell with dedicated services like restaurant deals, tours, or suite upgrades, every KIOSK solution is centered around your business and its needs.
Get in touch with the team bringing total automation to life now for your self check-in hotel terminal solution.
Hotel Check-In Kiosk FAQs
How can I integrate self check-in kiosks into my current operations?
The guest services solution integrates with major door lock and property management systems. The user interface can be customized to match brand logos and color schemes.
Can self check-in kiosks save money?
Absolutely! The front desk alone may require three separate staff members, assuming the hotel only has a single person at the desk. Most hotels have two or three staff managing this part of the hotel, and a self check-in service eliminates that.
Reduce your customer service team or reassign them to other positions where they can focus more on creating an incredible experience for guests. With hotels struggling to source reliable employees, self check-in terminals are the way forward.
How does payment work with a self check-in kiosk?'
Self check-in kiosks capable of taking payment integrate into your current POS systems. They can also come with card terminals enabling guests to input their payment information just like any other card terminal. They also support contactless payments.
Let's talk about your hospitality solution needs.