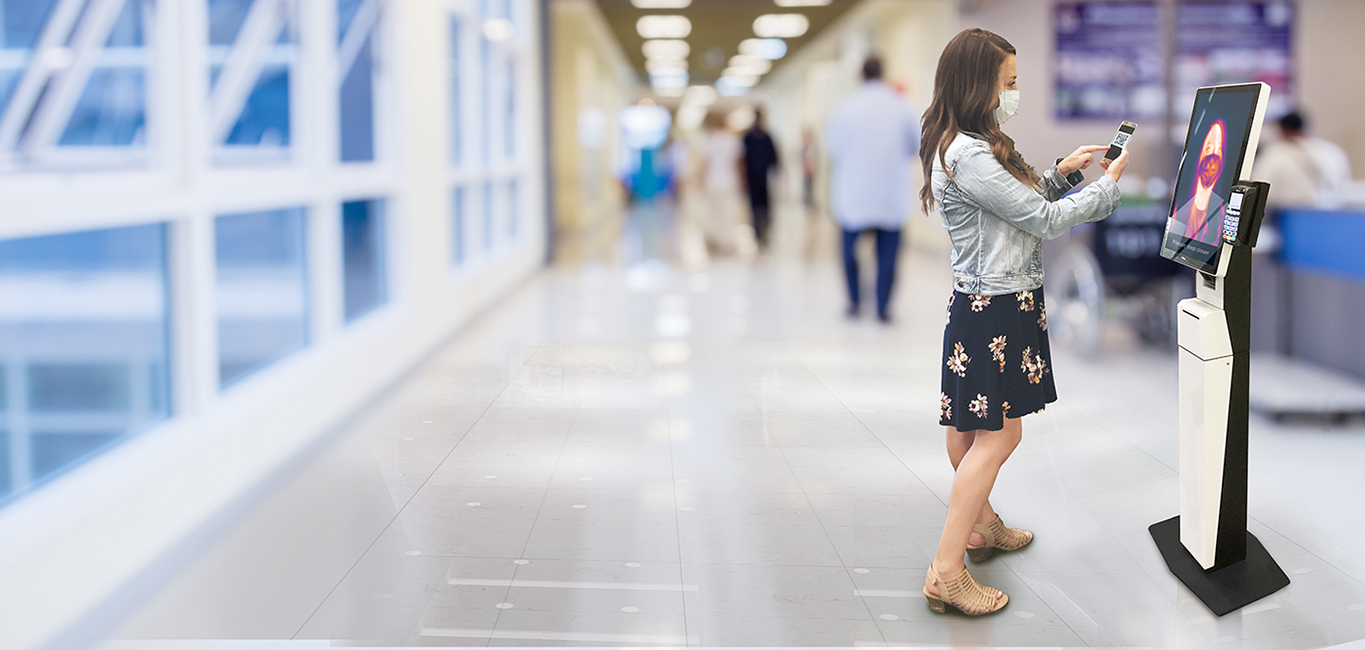 KIOSK and VSBLTY partner to provide a thermal screening solution
Temperature Check-In Kiosk Overview
In today's climate, businesses require self-service technology to measure "at risk" temperatures at the point of admittance as a safeguard for visitors and employees. Our joint temperature sensing solution with facial recognition allows visitors and employees to walk up to a kiosk and get scanned for an elevated temperature without attendant intervention, and without touching the screen.
The scanning process involves a contactless thermal camera to read and report the individual's temperature to an operator. This thermographic camera and related system software provide a temp scan with accuracy of ± .5°C. The system software provides the actual temperature data measured and the status of "not elevated " or "elevated" (elevated status threshold is 100.4°F, per CDC guidelines). The operator then has the appropriate information to either enact secondary screening measures or grant entry based on facility protocols and policies.*
Solution Features
The dual camera sensor array is integrated within the KIOSK enclosure. The camera array is equipped with:
Thermal IR (infrared) measurement for fast and simple reporting
3D sensors for subject depth detection and facial scan enabling the system to recognize a true face (as opposed to an object)
Red Green Blue (RGB) video illustrates the temperature mapping of a facial scan, aiding recognition of the process for the user
These multiple sensing technologies ensure accurate measurement and reporting to automate the screening process.
Contact Us For More Details
Optional Software Features
Because many companies are likely to continue the safety protocols enacted in this pandemic era as a long-term best practice, we have added valuable software features based on VSBLTY's AI-driven platform to augment the base capabilities of temperature and depth measurement.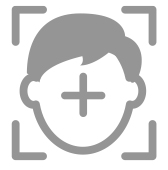 FACIAL RECOGNITION software enables businesses and venues to populate a database of employee photos for daily check-in and record keeping appropriate for payroll-status persons entering facilities. Guests and visitors can be anonymously temperature screened and surveyed. No records are held in the database for this use case.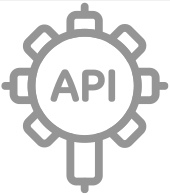 ACCESS CONTROL INTEGRATION is a quotable service. Fees vary depending upon feature request, system type, and API availability.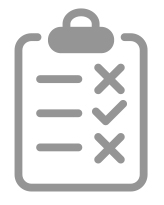 HEALTH SURVEYS can be captured in a few short clicks. This enables employers or facility operators to ask questions tied to health symptoms and exposure as part of admittance screening. Patrons unfamiliar with QR codes can answer surveys on-screen, and utilize integrated hand sanitizing solution post-transaction (optional feature).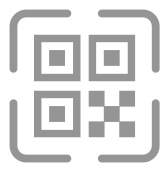 SCANNABLE QR CODES can enact a secure touch-free kiosk user interface experience. The single-use QR Code scan simulates the kiosk UI on the user's smart phone, facilitating the whole transaction without touching the kiosk. No app download is needed to enact this functionality – simply scan, like a restaurant menu.
*The Entry temperature measurement kiosk is a telethermographic system intended for adjunctive temperature data screening during the COVID-19 pandemic. It should not be solely or primarily relied upon to diagnose or exclude a diagnosis of COVID-19, or any other disease. Elevated body temperature in the context of use should be confirmed with secondary evaluation methods (e.g., an NCIT or clinical grade contact thermometer). Public health officials, through their experience with the device in the particular environment of use, should determine the significance of any fever or elevated temperature based on the skin telethermographic temperature measurement. The technology should be used to measure only one subject's temperature at a time. This is not an FDA-cleared device.