Retail Kiosks
KIOSK supports a full range of products for Retail kiosk solutions, with proven platforms in:
In-Store Money Services / Bill Payment Kiosks
Customer Loyalty
Gift Card Delivery
Endless Aisle / Ordering
Rental Systems
Locker Systems for package delivery, IT asset management, and phone charging
KIOSK's range of retail solutions reduce operating and transaction costs, increase sales and loyalty, while enhancing today's consumer experience. Full field and managed services simplify the demands of nationwide retail deployments.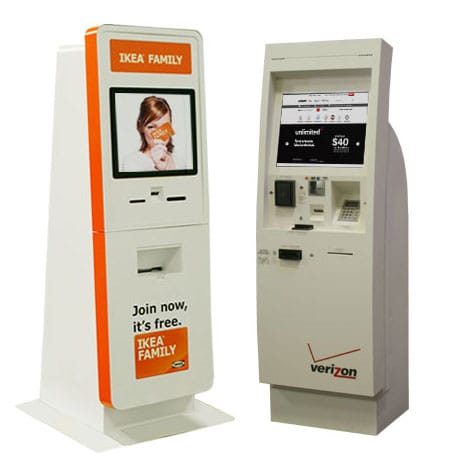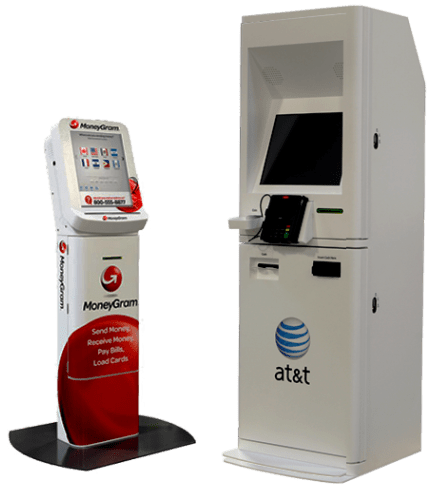 Payment Kiosks
Kiosk machines for bill payment reduce retail overhead costs and increase store revenues by enabling associates to focus on new sales activities rather than payment collection. Few kiosk applications can compete with the ROI of a secure bill payment application that fully automates ongoing payment transactions. Further, it provides reduced customer wait times and drives repeat in-store foot traffic.
KIOSK provides a licensed bill payment flow with market-ready applications modules. Flexible hardware models support integration of a full range of payment transaction components.
Parcel Locker and IT Asset System
KIOSK's Smart Locker portfolio includes full locker solutions for retail and corporate environments:
Site-to-Store Parcel Delivery Lockers
Information Technology Asset Management Lockers
Electronic locker systems for phone charging
Deployed in retail settings, locker solutions can substantially increase in-store foot traffic, revenues, and customer loyalty. Deployed in corporate environments, IT Asset Management solutions help reduce burden and overhead of Information Technology departments.
KIOSK provides expert custom solutions for both indoor and outdoor lockers, paired with full feature kiosk and mobile application development.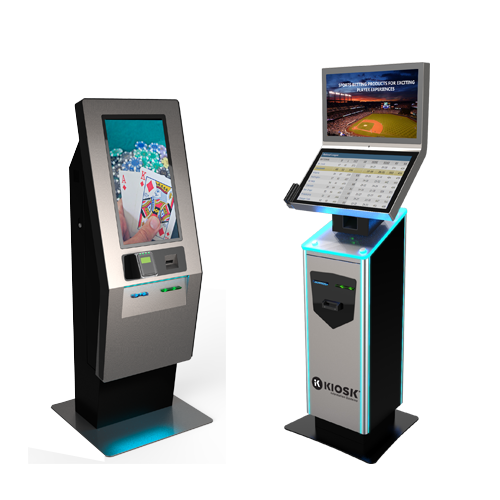 Casino Kiosks
KIOSK has a wide range of self-service sports betting and casino solutions which substantially reduce operating costs, increase casino revenues, and enhance player loyalty. Applications include:
Sports Betting
Player Loyalty
Redemption, TITO
Event Ticketing
Digital Signage
Several new models have been introduced in 2019 that are purpose-built for casino services.
Ticketing & Check-in Kiosks
KIOSK's Ticketing Solutions automate ticketing sales and will-call services to increase venue revenue; reduce labor and facility costs, manage peak traffic flow, and add off-hours convenience. KIOSK has extensive experience in outdoor design with proven platforms deployed in destination theme parks, sports arenas, movie theaters, and museums.
Self-service CUSS Check-in Solutions provide secure transportation check-in processes with reduced transaction overhead. Platforms provide a secure flight check-in process with bag tagging automation.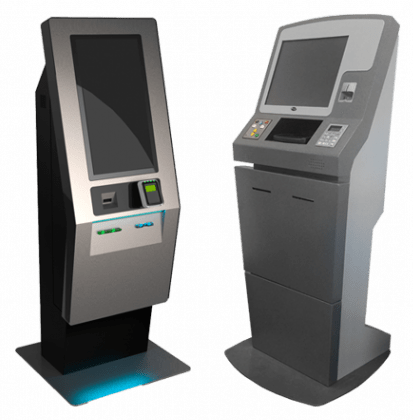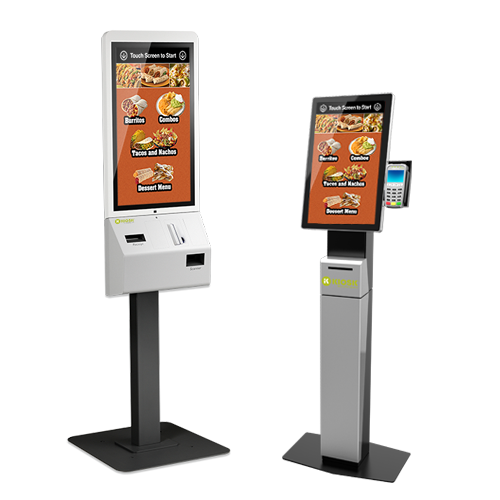 Order Entry Kiosks
KIOSK offers a spectrum of ordering application platforms to drive in-store efficiency and profitability. KIOSK's Retail Order Entry solutions improve the customer experience, reduce transaction costs, and boost sales revenues. Platforms provide an intuitive customer experience, with consistent presentation of up-sell prompts and promotions. KIOSK's also offers a complete line of world class Point of Sale devices with our Parent company, Posiflex. You can find more about our Point of Sale solutions here.
Security Kiosks
KIOSK's custom Security solution design expertise supports the most successful US and International airport customs and border protection security solutions in active deployment. Sophisticated integration capabilities enable efficient delivery of screening / document capture transaction requirements (traveler enrollment and verification programs).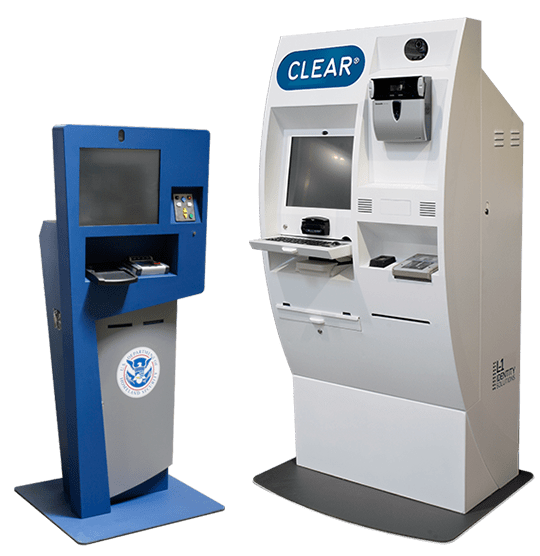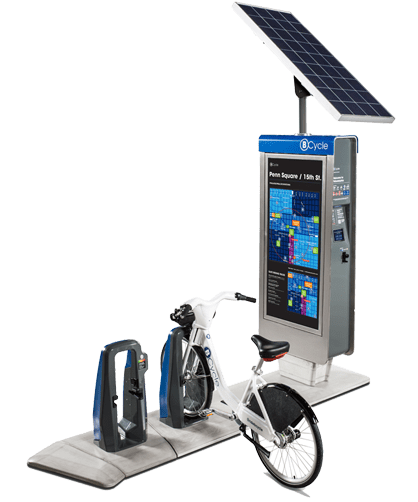 Green Kiosks
KIOSK provides innovative custom kiosk design and alternative component integration resulting in eco-friendly kiosks that benefit both the environment and the deployers' ROI. Green KIOSK application platforms (recycling, bike rental, etc.) can include solar power, low energy consumption components and, alternative cooling systems for peak efficiency. KIOSK is an ISO 14000:2015 certified facility.
Government Kiosks
KIOSK Government solution portfolio provides proven, cost-effective delivery for most mainstream transactions. Automated solutions serve Federal, State, and Local customers in the following areas:
Corrections – financial services, video-conferencing, scheduling
Bill payment automation
DMV – web, mobile, and kiosk
University services
KIOSK has a long track record of success stories in Government automation.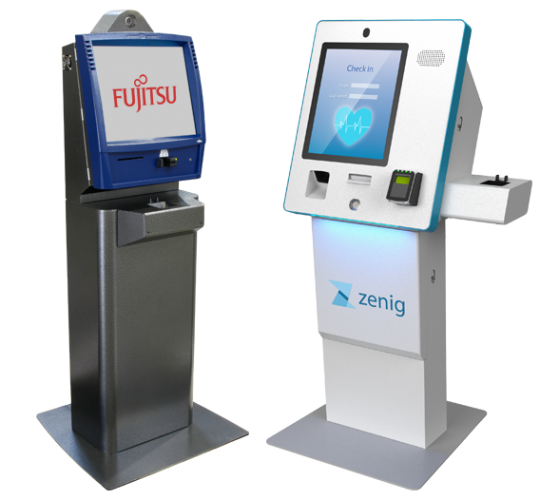 Healthcare Kiosks
KIOSK has a full portfolio of Patient Check-In Kiosks and Health Industry Management solutions. Proven application platforms streamline patient check-in, payment, and insurance work flow, providing a fast and secure patient experience. Deploying medical centers improve financial performance, ensure HIPAA privacy compliance, and provide better patient service.
Vending & Rental Kiosks
KIOSK's locker-based vending solutions offer cost-effective sales footprint expansion, theft prevention, and secure self-service sales delivery in unattended environments.
KIOSK has developed very custom platforms for bike sharing world-wide, deployed as part of large city infrastructure in the US and Internationally. Highly custom stroller rental kiosks, and equipment rental platforms are also part of KIOSK's rental portfolio.
Development teams in both kiosk hardware and software work in tandem to provide reliable rental and tracking solutions.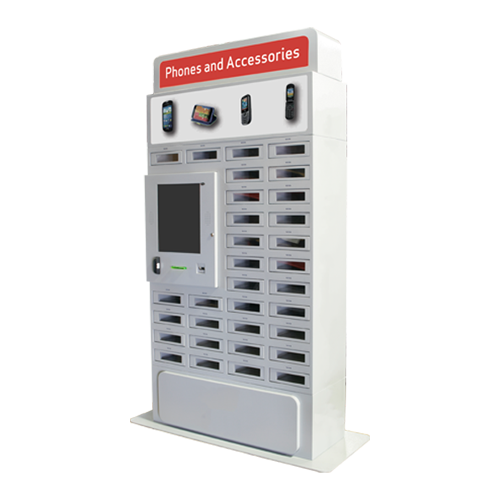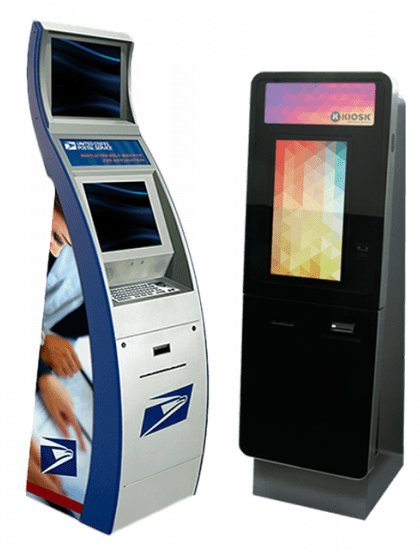 Human Resources Kiosks
KIOSK provides HR solutions to automate full-feature service delivery to disconnected employees while reducing delivery and administration transaction costs.
Proven field software offers features to automate benefits enrollment, paystub printing, profile management, job training and more. KIOSK solutions have been deployed with many Fortune 100 client's factory and manufacturing settings as well as government offices across the country.
Solutions integrate with virtually all major HR automation platforms including ADP, Oracle, Lawson, PeopleSoft, SAP, etc.