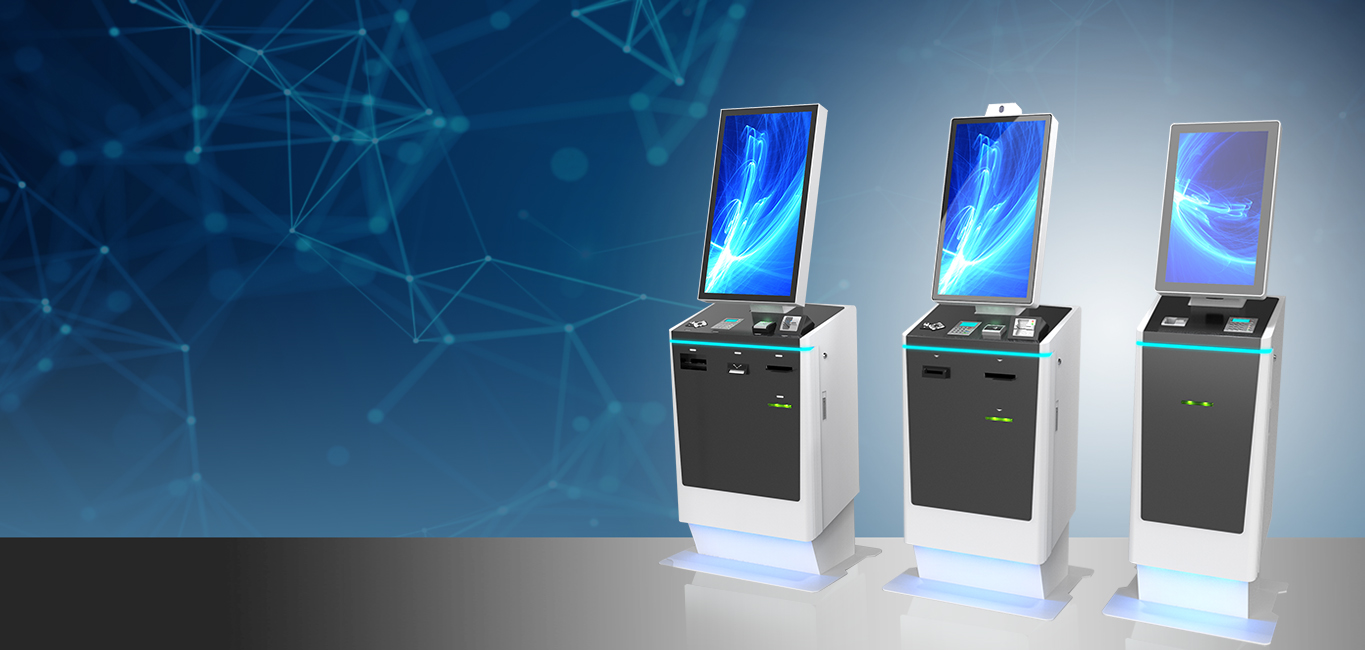 The Expanse Kiosk Series
Highly flexible and modular self-service platform
Overview
The Expanse Kiosk Series was created to provide a family of standardized enclosures that can be easily adapted to accommodate a wide variety of transactional components, thereby serving multiple vertical market applications. Recognizing that each kiosk deployment has somewhat unique transaction requirements, KIOSK has embraced a modular design approach to marry component customization capability with standard model designs and metals. The Expanse kiosk is built in three sizes with incremental cabinet room to house an entry-level, mid-level, or very complex component set.
The flexibility offered in the Expanse Series resolves many common customization needs, including display size / orientation preference, and the ability to accommodate more than one component set within a deployment. Pairing clean and modern design options across multiple use cases reduces custom engineering fees, and speeds up time to market. Small adjustments can easily be enacted without designing a custom enclosure entirely from scratch.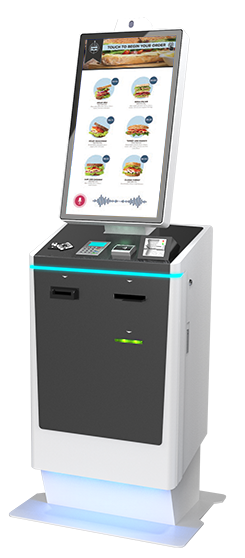 Contact Us for More Details
Each size platform has common design elements:
Options for LCD size and orientation. Brilliant Projective Capacitive (PCAP) touch displays are VESA mounted, with portrait or landscape display versatility.  Choices for display size include 32" (shown below), 27", or 21".
Programmable LED lighting for front panel accents (illuminated at components and base), providing a modern look and improved visibility.
Front access hinged door panels for simple service access.
Distinct component placement for easy access to each device (some mounted under enclosure surface, some door mounted, with larger components on shelves or slide out rails).
A KIOSK Sales Professional can guide you on the size of Expanse Series cabinet that would be workable, based on your specific component set. In general:
Large enclosures would be ideal for housing component-heavy feature sets required in applications like airline check-in/bag tagging, transit ticketing, or payment platforms with both cash and coin.
Medium enclosure would be suited for more feature rich bill payment, loyalty, and security-type applications.
Small enclosure would be appropriate for light ticketing and payment, endless aisle, order entry type applications.
Configurable Components within Expanse Series **
Posiflex KK2000 PC (J1900 Processor), or Posiflex KK3000 PC (I3 or I5 Processor)
Payment Components
Insert or Swipe Card Reader
NFC Payment Device
Pin Pad
Cash Acceptor
Cash Dispenser
Coin Dispenser
Locking Cash Vault
** Components fit iterations require KIOSK guidance and review before confirming enclosure recommendations. Components not listed here may still be feasible.
Additional Components
Receipt Printer
Card Printer
Ticket Printer
Bag Tag Printer
Camera
Navigation Pad for Visually Impaired Patrons
Headphone Jack
Enclosure Dimensions *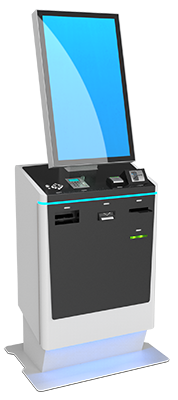 Large Pedestal | 32″ Display
Height Portrait –  70″ (inches)
Kiosk Width Portrait – 25″
Kiosk Depth – 14.5″
Width at Base Plate – 29.5″
Depth at Base Plate – 20.8″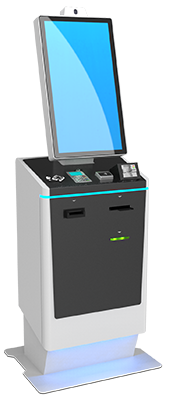 Medium Pedestal | 27″ Display
Height Portrait – 66.5″ (inches)
Kiosk Width Portrait – 21.5″
Kiosk Depth – 14.5″
Width at Base Plate – 25.9″
Depth at Base Plate – 20.8″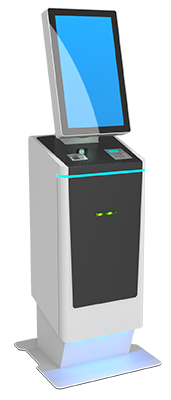 Small Pedestal | 21″ Display
Height Portrait – 62.1" (inches)
Kiosk Width Portrait – 16"
Kiosk Depth – 14.5"
Width at Base Plate – 20.9"
Depth at Base Plate – 20.9"
* Landscape height and width dimensions will vary, based on display size selected (21″, 27″ or 32″). Add 1.5″ to cabinet height if a camera feature is selected.
Please contact us if you have any questions or comments.
888.661.1697 / Toll Free
303.466.5471 / Telephone
303.466.6730 / Fax