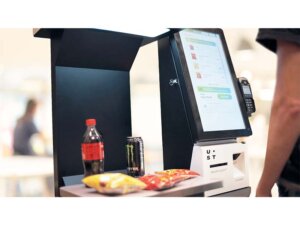 There is no doubt that the COVID-19 pandemic has changed the world forever – the way we interact with others, how and where we do our jobs, and consumer shopping preferences are just a few notable transitions here to stay. While some of these changes were necessary to adapt to rapidly changing public health orders and concern for safety, their long-term benefits in enhancing quality of life and creating efficiency were quickly realized.
As consumers become more accustomed to keeping their distance from others, the demand for self-checkout solutions continues to see a dramatic increase. In 2018, there were just 350 stores globally with autonomous checkouts; that number is projected to increase to 10,000 by 2024. In addition to safety concerns, retailers continue to turn to self-service technologies as the pandemic introduced record employee resignation rates to meet customer demand.
Where consumers are shopping is also undergoing a dramatic change. With shrinking household sizes driving more frequent top-up shopping trips and aging populations restricting mobility with more demand for proximity formats, shoppers will turn to convenience stores and drug stores to fulfill their shopping needs at the expense of traditional big box stores. With this shift comes a rising interest in self-checkout options.
Consumers are also turning to the convenience of online shopping but according to a report from the IBM Institute for Business Value (IBV), in association with the National Retail Federation, in-store shopping isn't going anywhere anytime soon. The global survey, which included 19,000 respondents across 28 countries in September 2021, finds that consumers are using a mix of digital and in-person channels with one-third of Gen Z preferred this hybrid shopping model. As consumers continue down the path of using digital channels for shopping, the tolerance for inefficiencies that come with the in-store experience will continue to decline, which means that efficiency is becoming more important than ever in the retail space.
According to the 2019 Annual Connected Retailer Survey, 73% of shoppers said they prefer retail self-service technologies, such as self-checkout, over engaging with store associates. Unmanned convenience stores are becoming more popular, making them one of the most high-profile applications for self-checkout solutions.
With the rising popularity of self-checkout solutions, retail operators must be sure that the customer experience is seamless when implementing this self-service solution. Vision Checkout, a partner solution between UST and KIOSK Information Systems, provides an easy and autonomous solution that gives customers greater convenience along with managed services that avails a peace of mind for operators with remote monitoring of uptime and security. The self-checkout solution is all about ease of use and speed to elevate the customer experience; the customer simply places one or multiple items on the checkout kiosk, items are identified via computer vision and displayed on the kiosk screen, followed by a touchless purchase process. For retail operators, Vision Checkout advances unattended automation, providing both cost and operational efficiencies – with accuracy and consumer safety at its core.
While introducing self-checkout solutions can be challenging for some retail operators, implementing the right technology can help improve efficacy and improve the customer experience by giving them exactly what they want. If you've been thinking about implementing self check-out but aren't quite sure where to start, KIOSK is here to help.