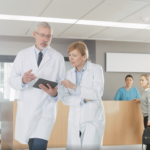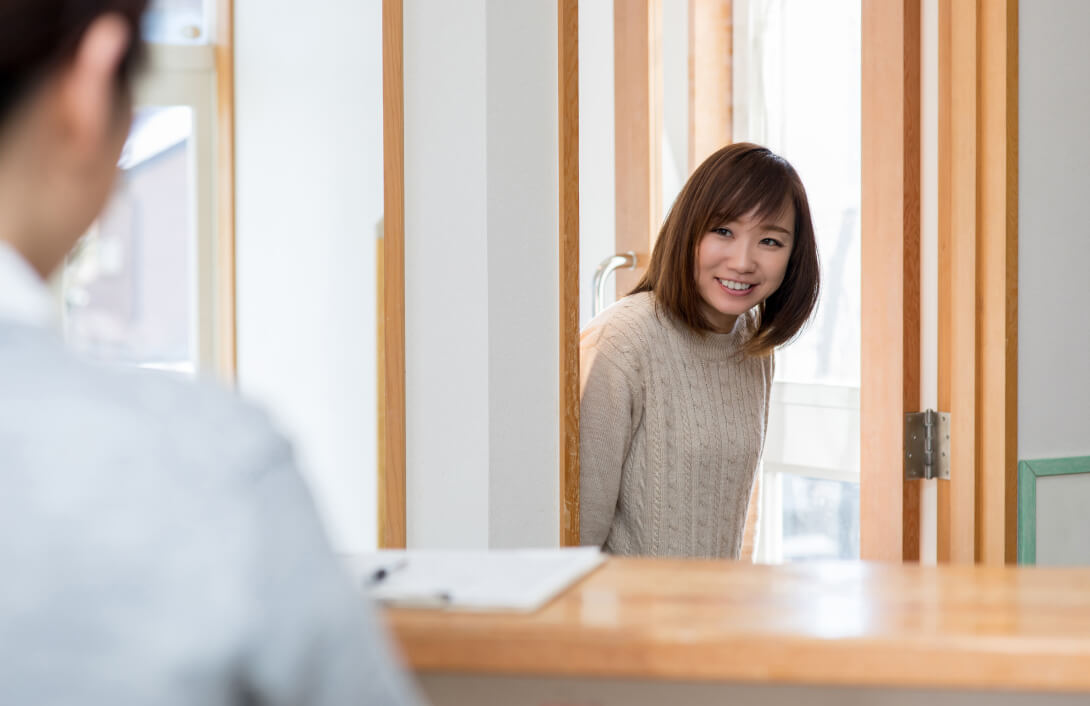 Healthcare Kiosks Overview
Healthcare self-service kiosks empower patients with tasks like check-in, appointments, payments, and accessing records. Enhancing efficiency and patient experience, these interactive terminals reduce administrative burdens on staff.
As the healthcare industry seeks to create efficiency, the demand for self-check-in and virtual video support have increased. Automated patient self check-in kiosks increase convenience and streamline administrative processes. Telehealth kiosk solutions enable healthcare facilities and insurance providers to provide patients with instant access to expert help related to their health and medical billing questions. KIOSK has proven and deployed solutions with major healthcare and insurance providers paired with complete deployment and managed services.
Additionally, one survey showed that over half of patients using a health kiosk found the process preferable to filling out paper forms. A health care kiosk solution expedites the patient check-in process, protects administrative staff by reducing face-to-face interactions with ill patients, and allows patients who prefer to reduce in-person interactions to do so. Because information no longer needs to be manually transferred from paper forms, administrative costs are reduced, and errors are minimized.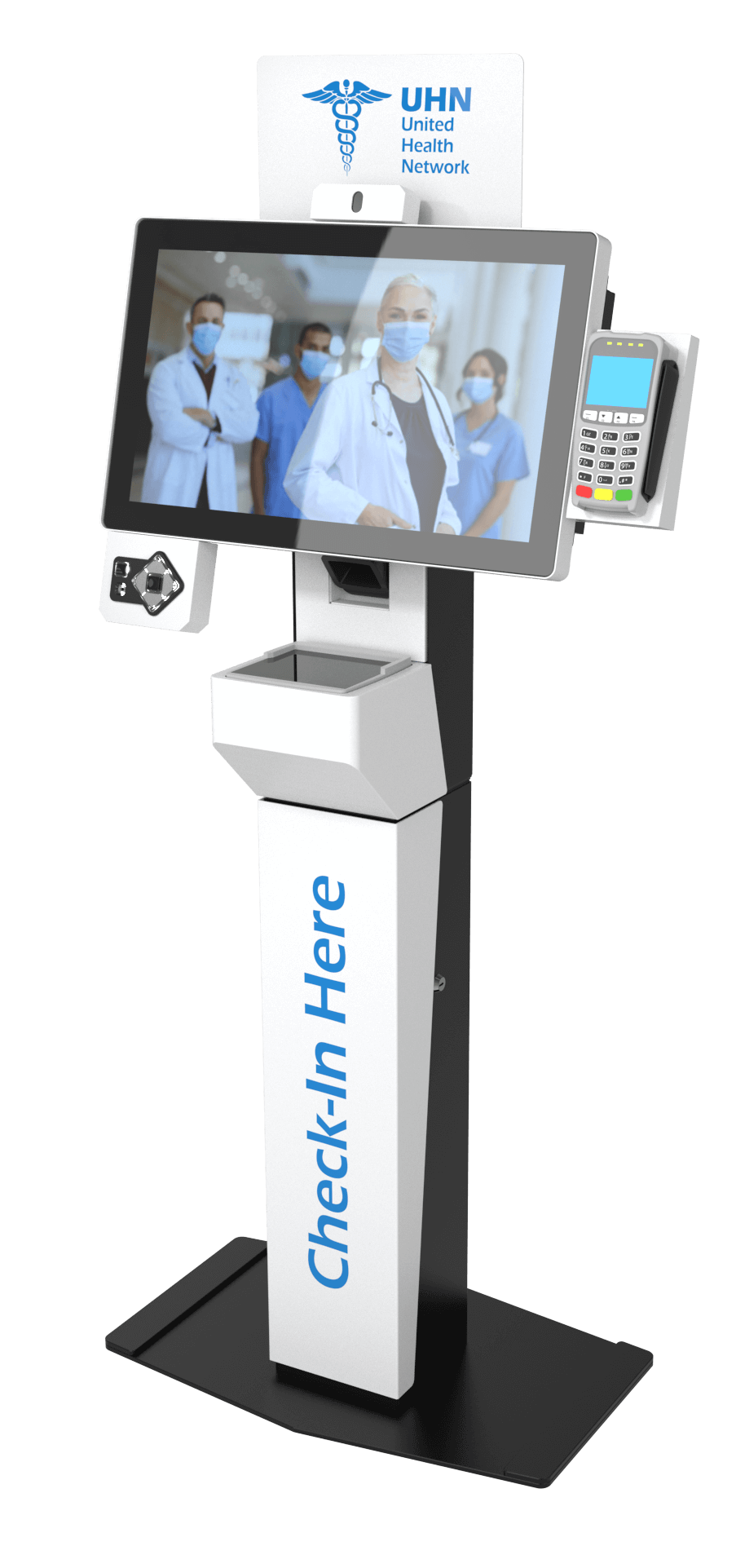 Automated Patient Check-In
Self Check-In Solution for Record Data, Signatures, Payments, and More
Automating patient check-in allows private and government medical facilities to streamline patient processing and improve financial performance, while providing a fast and secure patient service. Adding a kiosk for a hospital to your facility's operational plan can help alleviate staffing issues during times when hospitals experience a surge in patient visits.
Other benefits of a medical kiosk include:
Improved patient information sharing among healthcare organizations
Real-time patient authentication at check-in to drive down claim rejections, collection expenses and bad-debt write offs
Improved accuracy of insurance information
Point-of-service co-payment and fee collection capabilities to improve cash flow
Ability to identify and screen uninsured patients to suggest financial assistance options
Open communication channels among providers to facilitate patient referral process
Tracking and reporting to ensure accurate registration records
Clients that have deployed a patient kiosk for healthcare settings have seen over 30% increases in insurance data accuracy. In addition, claim refusals have dropped significantly, enabling flat or re-allocated headcount in the deployer's collections staffing.
View Patient Check-In Brochure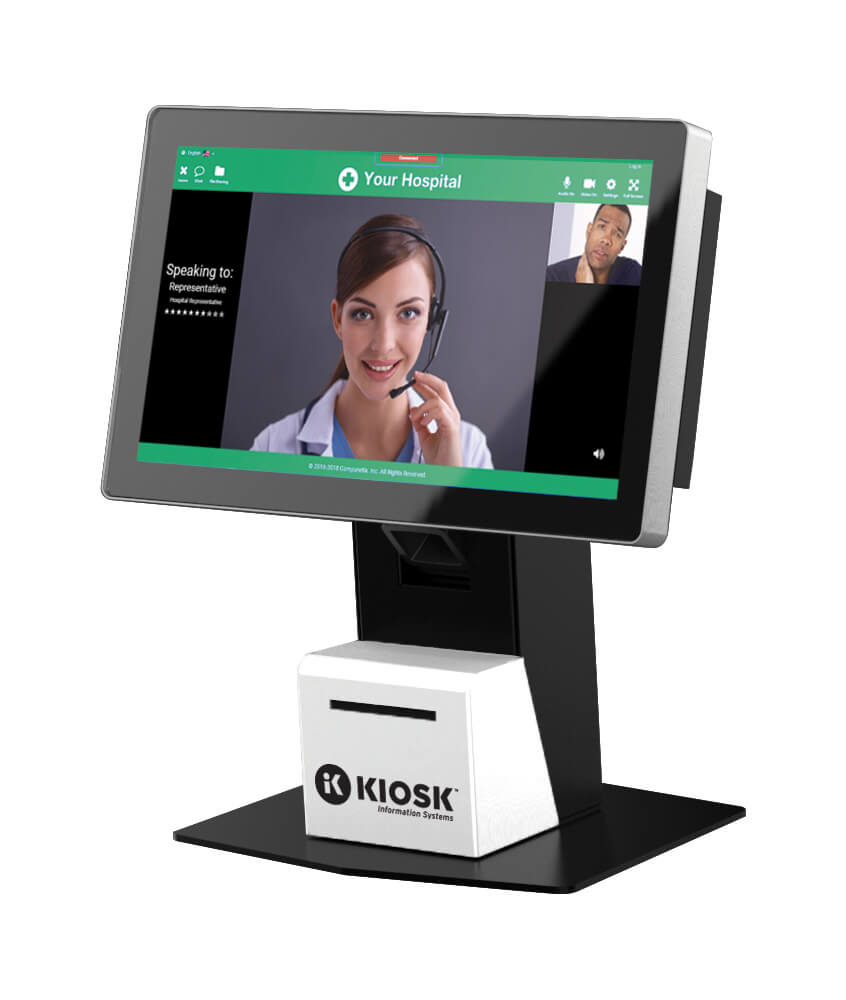 Telehealth Kiosk Solutions
Virtual Face-to-Face Interaction with Healthcare & Insurance Providers
Telehealth kiosk solutions improve the customer experience by enabling interaction with a specialist or expert that can serve multiple sites at once.
As staffing shortages in the healthcare industry become an increasing issue, telehealth kiosks can help by still providing patient access to specialized care.
Additionally, the Association of Medical Colleges predicts a significant physicians shortage (approx. 122,000 physicians) by 2023. Of that 122,000, between 21,100 and 52,000 will be primary care physicians, further driving the need for virtual health care solutions to provide convenience and efficient access to care. For patients who live in rural areas far from clinics and those who don't have regular access to the internet, telehealth kiosks can help to bridge the digital divide.
Healthcare specialists are often needed after a visit to a primary care doctor to help diagnose and treat more complex problems. These specialists are typically not located in the same building as a primary care doctor and often times involve an inconvenient drive for the patient. Telehealth kiosks give patients the opportunity to meet with a specialist virtually under the same roof as their primary care doctor, which is usually located nearby to their home or workplace.
Telehealth kiosks can also deliver on-demand healthcare to locations where doctors would typically not be present. Pharmacies are starting to adopt telehealth kiosks as a way to expand access and provide convenience for customers. In some cases, the patient can even be prescribed a medication via a telehealth kiosk and have the prescription sent to the pharmacy, eliminating the need for the patient to visit multiple locations for their healthcare needs.
Video Support Kiosks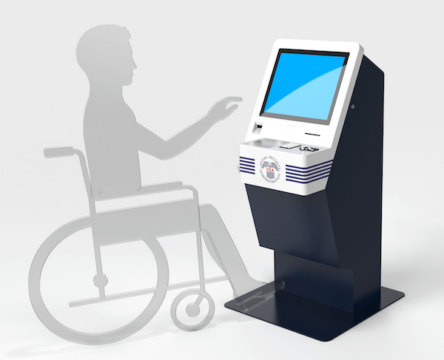 ADA Compliant Kiosk Hardware
ADA compliance is an important consideration for kiosk deployment in any industry, but especially so in healthcare. KIOSK has deep experience in manufacturing accessible kiosks to ADA specifications. We work with third-party reviewer Vispero to ensure hardware submitted for ADA compliance meets ADA standards for height and reach, data input and output devices, and more.
Additional Considerations for ADA Compliance
Kiosk software applications matter – contrast, font size, video captions, and screen reader compatibility are important components for accessibility
Kiosk placement affects accessibility – environmental factors such as approach, placement, and glare can impact the accessibility of a kiosk
Healthcare Kiosk Downloads
Let's talk about your healthcare solution needs.