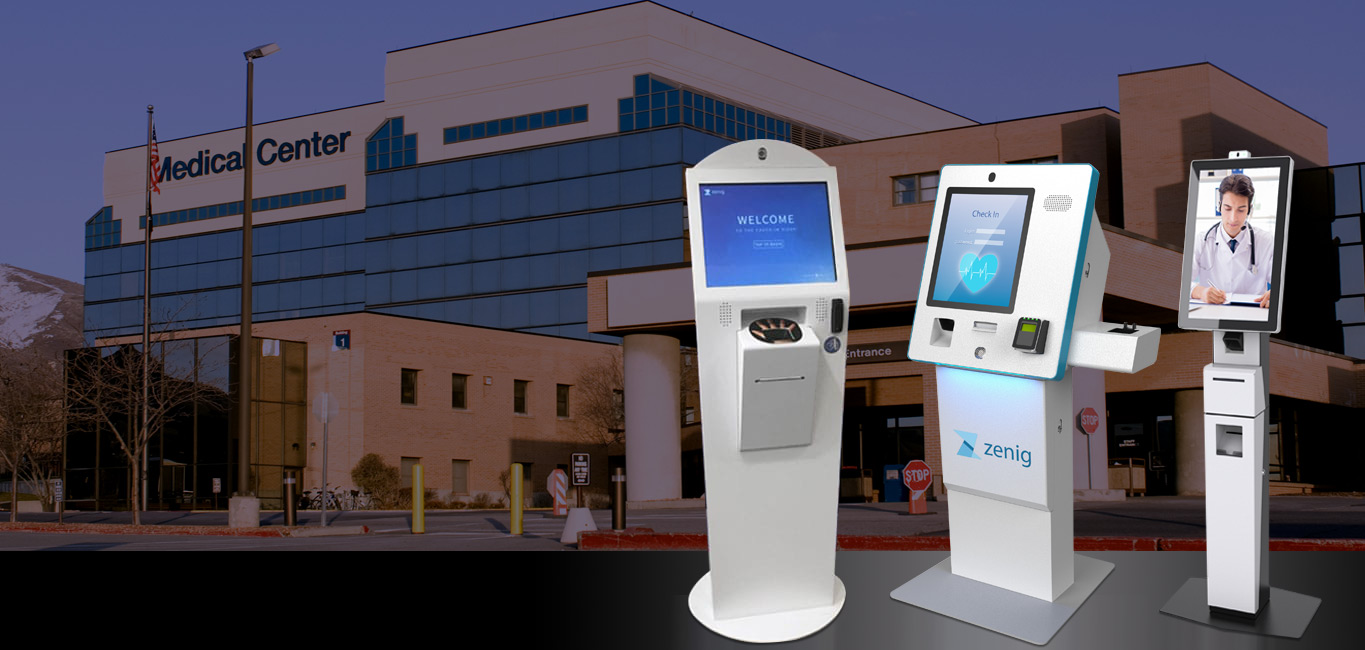 Healthcare Kiosks & Medical Kiosks
Patient Check-in Kiosk & Healthcare Kiosk Solutions
Healthcare Experience
KIOSK is proud to be the OEM manufacturer for some of the most technologically advanced and interactive patient check-in solutions in the health care industry. Automation of check-in processes in medical campuses and private practices can substantially impact staff efficiency by eliminating redundant paperwork. Further, securing verified advance insurance data and payment collection up front ensures a more profitable flow with reduced collections.
Healthcare self-service innovators such as Allscripts and Fujitsu, Clearwave, Nova Medical, HealthAsyst, MedHost, and Interior Health have leveraged KIOSK's custom design expertise to bring new patient check-in solutions to the healthcare community.
KIOSK's ability to leverage modular design efficiency and integrate highly custom peripherals has provided clinics, hospitals, and other providers with exceptionally cost competitive market entry points.
Application specific peripherals such as biometric identification, insurance card scanners, cameras, privacy screens, and payment transaction devices streamline patient and work flow, improve financial performance, ensure HIPAA privacy compliance, and provide patients with markedly improved service.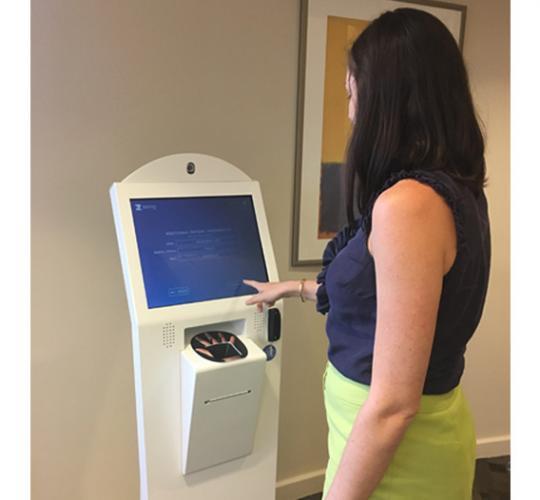 Contact Us For More Details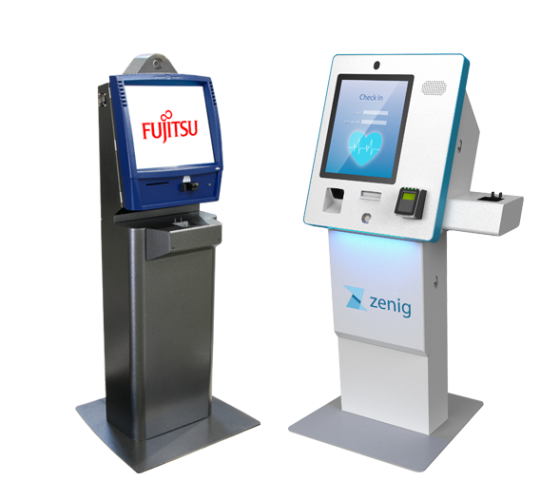 Solution Features
Automated Patient Check-In Kiosk platforms increase convenience, allowing patients to self- identify upon arrival at the facility; view and confirm record data and insurance information, electronically sign consent documents, and make payments.
All information entered during the patient flow is seamlessly integrated into the Healthcare Organization's (HCO) back-end system. This helps to reduce administrative costs for the organization associated with incomplete or wrong records. Additionally, the built-in credit card reader ensures up-front customer payment to decrease collections overhead.
Patient-Facing Kiosk Functions
Digital appointment check-in for a streamlined and higher quality patient experience
Secure patient identification, ensuring full HIPAA compliance
Real time demographics verification to ensure records and collection accuracy
Real time eligibility check, providing an early administrative verification point
Consent form viewing and e-signature for efficient and accurate digital records
Outstanding balance and co-pay collection at the onset of the appointment
Alert notifications
Facility center directions
Prescription refill ordering
Healthcare Kiosk Management Tools
Search and view currently checked-in patients
Manage and address configuration and workflow
Read kiosk usage statistics
Customizable user interface content
Define terms of rules based workflow
Benefits
Automated patient check-in provides several direct benefits to patients as well as the hospital, clinic, and health care providers, simultaneously improving service and reducing costs.
HCO Efficiency Benefit
Save significant hours of Staff Time per day, thus improving the bottom line
Reduce administrative paperwork
Improve revenue cycle visibility and management
Better control on Patient Queue management
Fully secure and HIPAA compliant
Enhanced communications efficiency
Allow for quality of care to be a primary focus
Patient Satisfaction Benefits
Uniform user interface across multiple sub-providers, eliminating duplicate steps
Simple and streamlined check-in process
Ability to self-manage and update account information, sign forms, and make payments
Easy to Use Touch Screen technology
Improvement in Patient Privacy
Improved Quality of Care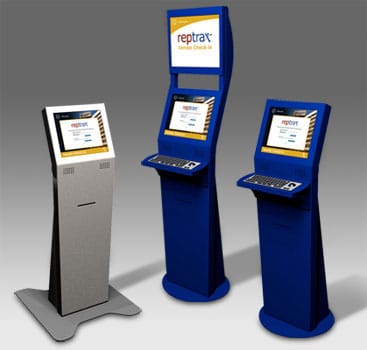 Vendor Check-In
The Vendor Check-in Kiosk allows representatives to check-in and self-badge prior to entering the main healthcare facility. KIOSK's turnkey solution offers the convenience of multiple check-in locations and unattended self-badging capabilities with built-in consumables alerting system, ensuring the credentialing system is never down. Stand-alone or countertop models available.
Software Solution Features
Remote monitoring program provides network visibility on all entrances
Staff email alerts of entry activity, providing real-time functionality / maintenance notifications
Online client portal access to manage the interface and peripherals of every device in network
Capability to accommodate any Vendor Credentialing Database Service (VCDS) including Reptrax and Vendor Credentialing Services (VCS)
Facility Benefits
Reduces labor costs by eliminating expensive staffing stationed to answer questions at all check-in locations
Provides cost-effective delivery with minimal maintenance or intervention requirement
Provides proof of vendor check-in compliance
Ensures full access point availability, providing a simple, unattended compliance mechanism
Please contact a KIOSK representative to learn how an on-site healthcare kiosk can improve patient experience and reduce overhead.