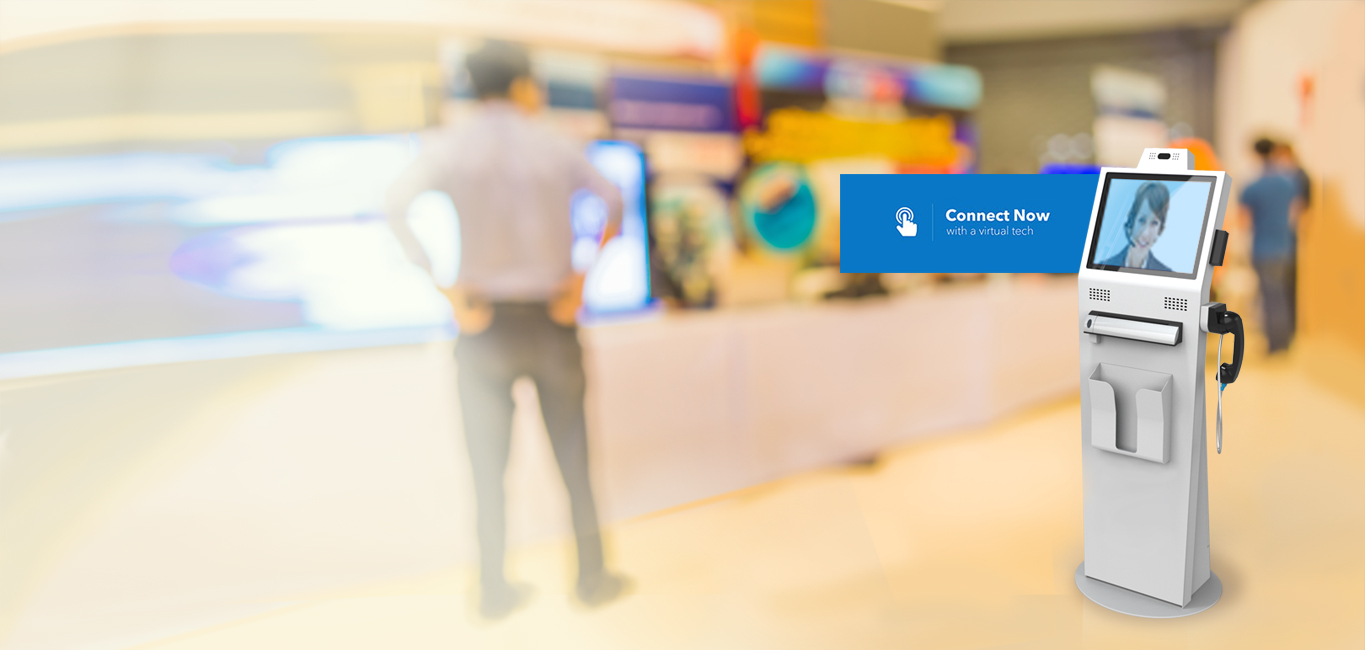 Video Assistant Kiosks
Live Expert Help Kiosk Solutions
Contact Us For More Details
Live Expert Kiosk Solutions
According to a recent Medical Group Management Association (MGMA) insight article, The Newest Trends in Telehealth in 2020, telehealth is positioned for skyrocketing adoption.  "Providers want a solution to administrative burdens, barriers to care, and lack of visibility into patients' healthcare stories.  Telehealth offers cost savings, higher productivity, less 'windshield time' driving between locations, better work-life balance and other benefits – all of which accelerate adoption. In turn, major healthcare networks are responding to pressure to increase telehealth reimbursement."  With the Coronavirus fueling trends already in motion, KIOSK is prepared to answer a surge in this self-service category demand.
To deliver a complete telehealth kiosk solution, KIOSK has partnered with ClairVista, a leading developer of converged VoIP, voice, video / data collaboration and conferencing applications.  The combined solution of Compunetix Video Call Center™ (VCC) with digital kiosks enables healthcare facilities and insurance providers to provide patients with instant, face-to-face access to expert help related to their health and medical billing questions.  This digital approach to patient care is becoming a preferred mode of communication, providing real-time virtual healthcare assistance.
Live Help Kiosk Functions
Government Application
Live Expert is used by government services such as police departments, DMVs and municipal courts to provide better access for customers and safer service interaction. Kiosks at partner locations also reduce customer density and wait times at government offices. Virtual on-demand staffing improved efficiency by making agents available to any location where customers need help.
Travel, Hospitality and Education
Companies like Hertz, Discount Car & Truck, Pleasant Holidays, and ASEQ use Live Expert kiosks to create points of presence at partner locations. Virtual on-demand staffing reduces cost of operations while still providing face-to-face customer service. Live consultations significantly increase customer conversion and purchases.
Professional Services and Support
Staples Canada uses Live Expert kiosks to provide graphic design and digital marketing services. Intuit uses Live Expert kiosks to provide support services to its employees worldwide. Live Expert system is equipment agnostic, so can run on off-the-shelf computers and tablets as well as full kiosks.
Software Features
Custom menu options and workflow
Agent-assisted and self-service option
Multi-language support
On-demand video chat support
Secure encrypted data transport
Cloud-based updates and administration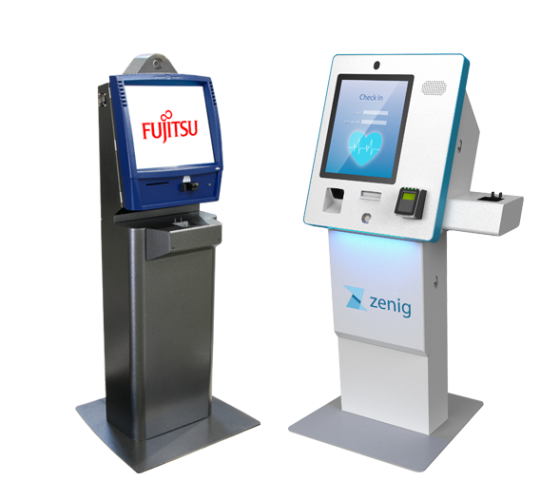 Solution Features
Automated Patient Check-In Kiosk platforms increase convenience, allowing patients to self- identify upon arrival at the facility; view and confirm record data and insurance information, electronically sign consent documents, and make payments.
All information entered during the patient flow is seamlessly integrated into the Healthcare Organization's (HCO) back-end system. This helps to reduce administrative costs for the organization associated with incomplete or wrong records. Additionally, the built-in credit card reader ensures up-front customer payment to decrease collections overhead.
Patient-Facing Kiosk Functions
Digital appointment check-in for a streamlined and higher quality patient experience
Secure patient identification, ensuring full HIPAA compliance
Real time demographics verification to ensure records and collection accuracy
Real time eligibility check, providing an early administrative verification point
Consent form viewing and e-signature for efficient and accurate digital records
Outstanding balance and co-pay collection at the onset of the appointment
Alert notifications
Facility center directions
Prescription refill ordering
Healthcare Kiosk Management Tools
Search and view currently checked-in patients
Manage and address configuration and workflow
Read kiosk usage statistics
Customizable user interface content
Define terms of rules based workflow
Benefits
Automated patient check-in provides several direct benefits to patients as well as the hospital, clinic, and health care providers, simultaneously improving service and reducing costs.
HCO Efficiency Benefit
Save significant hours of Staff Time per day, thus improving the bottom line
Reduce administrative paperwork
Improve revenue cycle visibility and management
Better control on Patient Queue management
Fully secure and HIPAA compliant
Enhanced communications efficiency
Allow for quality of care to be a primary focus
Patient Satisfaction Benefits
Uniform user interface across multiple sub-providers, eliminating duplicate steps
Simple and streamlined check-in process
Ability to self-manage and update account information, sign forms, and make payments
Easy to Use Touch Screen technology
Improvement in Patient Privacy
Improved Quality of Care