There is a legitimate need for hyper-vigilance surrounding sterilization to stop virus transmission in each of our daily lives. While measures like anti-microbial screens, UV lights, contactless and voice activated user interfaces are all great long-term measures for improved kiosk safety, the immediate problem for kiosks already in the field are these:
How do I illustrate to kiosk users that it is safe to conduct a transaction?

How do I ensure the safety of employees and service personnel who are handling cash from the kiosk?
KIOSK's Engineering Team has created a very simple set of magnetized brackets and magnetic labels to house well known and trusted sanitizing product brands (i.e., Purell, Lysol, Clorox, etc.). The intent is to provide a low-tech, immediate, and super-affordable way to house disinfecting products such that users instantly recognize they have a way to take control and conduct a safe transaction. It's very comparable to grabbing shopping cart wipes before starting a grocery run. The magnetic product brackets are a simple way to introduce protective measures to the platform without adding any unnecessary expense or floorspace demands.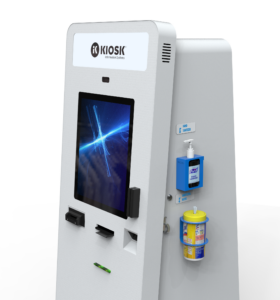 While KIOSK does recommend deployers regularly sanitize the entire kiosk enclosure (guidelines below); unless the user happens to see the sanitizing happen right before their own transaction, they will assume there is some level of exposure to virus germs.  Providing consumers and employees with sanitizing wipes lets them take control of disinfecting the surfaces they need to touch.  They can safely conduct their transaction without person-to-person proximity and leave with a pump of hand sanitizer confidence.  Deployers should also provide six-foot queue markers and disposable gloves for employees or technicians that will be routinely handling cash (no different than cashiers at Point of Sale).
Ensuring confident customer usage is about providing legitimate perception of safety. The average customer has no knowledge about anti-microbial screens or the benefits of UV lights for sanitization. They do, however, intimately understand and trust household disinfectant brands and related benefits.
These brackets and labels are available from KIOSK by calling 866.349.0785 or emailing sales@kiosk.com. The procurement of the hand sanitizer and disinfecting wipes is the responsibility of the deployer.
KIOSK Terminal Cleaning Guidelines
Current CDC recommendations suggest that frequently touched surfaces should be cleaned on a regular basis with a solution that contains at least 70% alcohol. Depending on the level of traffic flowing through a business or organization, a single kiosk screen could be touched hundreds or thousands of times in a single day — making it pertinent that they are properly sanitized to prevent the spread of germs. Kiosk screens should be cleaned with a soft, lint-free microfiber cloth. Abrasive materials, such as paper towels or rags, should be avoided if at all possible as they can spread lint or damage the screen's surface.
Summary of Standard Best Practices:
Kiosk Cleaning Do's:
Use a microfiber cleaning cloth or towel to clean the enclosure
Spray cleaner directly on the cloth or towel, and then wipe the kiosk surface to be cleaned
Clean the kiosk exterior with a cloth or towel that is damp, but not wet enough to leak into the electronics
Contact a service professional to clean any components on the kiosk interior
Kiosk Cleaning Don'ts:
Don't spray cleaners directly on equipment
Don't use abrasive powder cleaners or abrasive cleaning materials (brushes, scouring pads, etc.)
Never soak electronics with cleaning liquids
Safe / EPA Recommended Disinfectant Wipes
Some common brands of disinfecting wipes are listed below and are safe to use to wipe down kiosk displays and components.
CLOROX Disinfecting Wipes (EPA Registration #5813-79)
CLOROX Healthcare Bleach Germicidal Wipes (#67619-12)
CLOROX Commercial Solutions Hydrogen Peroxide Cleaner Disinfectant Wipes (#67619-25)
LYSOL Disinfectant Wipes (#6836-313)
PURELL Professional Surface Disinfectant Wipes (#84150-1)
Authored by Cheryl Madeson, VP Marketing & Communications (*with excerpt from KioskMarketplace.com)
KIOSK Information Systems